Messages

169
Reaction score

87
Location
# of dives

100 - 199
I have also recently acquired a Micro 3.0. The decision was made by my wife who said, "Get the thing that is fully sealed so you don't have to worry about flooding."
I've had it in the lake twice. Once to snorkel and once on a dive. Already I can see that the lack of strobes is going to be an issue while shooting in the murky waters of northern Minnesota. The twin 2500 lights aren't nearly powerful enough to freeze movement (fish or my own). I'm also noticing quite a bit of distortion around the edges of the lens. This isn't the standard distortion I would expect from a true wide angle lens, this is more like the distortion you get when screwing on one of those cheap aftermarket "wide angle" filters onto an SLR lens. It's a nice stretched look.
Clearly I'm going to need to work with this camera a bit more to find the "sweet spot" as relates to focus. I don't how it chooses it's focal point. There is a metering option that I can change, but I wouldn't image that has anything to do with focus. Some images come out with great focus on the subject, some not so much, and several seem to suggest the 12" minimum focal distance is really something like three feet.
I did speak with SeaLife a few times prior to purchasing the unit, however, because I had the same thought as
@BrewingDiver
about waiting for a new DC. I was informed that SeaLife did not have plans to continue the DC line. The quote I was given was, "Sadly, people just aren't making cameras anymore because everyone has cell phones," which carried into a conversation about how there wasn't much sense in creating a product that was in decline.
I don't know that I agree with that, but I'm no longer in that industry so what do I know?
After really only a single test in some very dark and murky water, the only thing I can say is that I need to work with the camera more to understand how it operates, but I think it will work "okay" for my needs now.
For reference: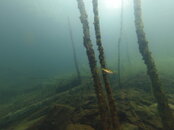 This image is SOOC. I'm at a depth of about 15 feet. It is overcast. Visibility is probably fifteen or twenty feet. I wouldn't expect miracles in terms of clarity or light quality here, but the lens distortion around the edges (especially in the lower right corner where there's actual detail) is a bit disappointing.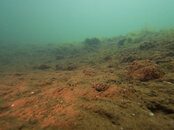 I'm trying to photograph this snail (the purple smudge near the center of the frame). This is the same dive as above. Unless I've become an absolute disaster at gauging distance, I'd say I'm about eighteen inches from the snail (which, if I read the manual correctly, is greater than the minimum focal distance for the native camera) and the only thing in focus is some lake weed an additional two feet behind the snail.
As I said, I will need to practice more to figure out how it's deciding to focus on what.