ScubaBoard Supporter
ScubaBoard Supporter
Messages

10,229
Reaction score

8,741
Location
# of dives

500 - 999
Hi:
Recently did a 7 day Royal Caribbean southern Caribbean cruise on
Adventure of the Seas
. Did private 2-tank charter boat scuba trips at St. Lucia and St. Croix. The St. Croix trip was on Saturday, Jan. 18'th, 2014. I dove with S.C.U.B.A. (St. Croix Ultimate Blue Water Adventures).
I did some research as to who to book with; reviews were good for S.C.U.B.A. and mostly also good for
Cane Bay Dive Shop
(I figure most any op. that's been around for years and served a lot of customers is going to have a bad review out there somewhere). Cane Bay Dive Shop has a
cruise ship visitors page
, but under a summary of services to consider, it mentions a 1 tank dive, but I didn't see a 2 tank dive. Maybe you
can
book 2 (?), but this concerned me. I've thought if I ever spent a week dive vacation I might use Cane Bay Dive Shop for their dive services, plus their cottages option for lodging, and could hopefully shore dive to supplement the boat diving (I like 3 to 4 dives/day; 2 dives/day seems anemic to me as dive vacations go).
But this wasn't a 1 week dive vacation, this was a 1 day cruise ship stop. So I looked at
S.C.U.B.A.'s website
. They've got
a page for cruise ship visitors
. From their website:
You have two great options for diving on St. Croix from your cruise ship.

By far the easiest is to take our west end dive boat which is located right on the cruise ship pier. This boat dives the shipwrecks and reefs along the west shore of St. Croix. All of the dive sites are 15 minutes or less from the cruise ship pier and you'll be in sight of the pier at all times. Two-tank dive trips depart at 9:30am returning around noon, and at 1:00pm returning around 4:00p.
For those who want to dive our "wall" you'll want to take our north shore dive boat. Take one of the Christiansted Shuttles or taxi vans from the cruiseship pier to Christiansted (about 35 minutes). All will drop you off right in front of our shop. The boat leaves at 9:30am (on cruise ship days) returning around 1:00p. The two-tank dive trip starts with a wall dive followed by a coral garden dive.
I like easy, but I'd heard good things about St. Croix wall diving. So I e-mailed for info. on big tank availability and how the 2 trip options compared. Part of Ed Buckley's response to me:
Is the overall diving quality comparable between the 2?
Both dive sites are uniquely different. There are three wrecks together which we tend to do as the first dive of the west shore boat followed by a reef dive. St. Croix is known for its wall diving and that's the first dive of the north shore boat. I believe that both boats do equally good though vastly divergent dives.

What does a 2 tank trip run? Do you have an option for tanks larger than 80 cf? Oh, I have my own gear; just need tanks & weights.
Two-tank boat dives are $115. You can upgrade your tank to an aluminum 100ft3 tank for $10 per tank.

Do you by chance having shore diving as an option? I see your morning trip gets back around noon. I wouldn't be above doing a couple of shore dives early afternoon. If that's an option, what does it cost.
There's really not much in the way of shore diving near either of our locations. The barrier reef along the north shore prohibits shore diving near Christiansted and the sites on the west shore, though fairly close, would still make for a long swim out.
So I picked the west end trip. And it was easy to find. Here's a shot of St. Croix and the pier from the ship ( believed we docked at Fredricksted Pier):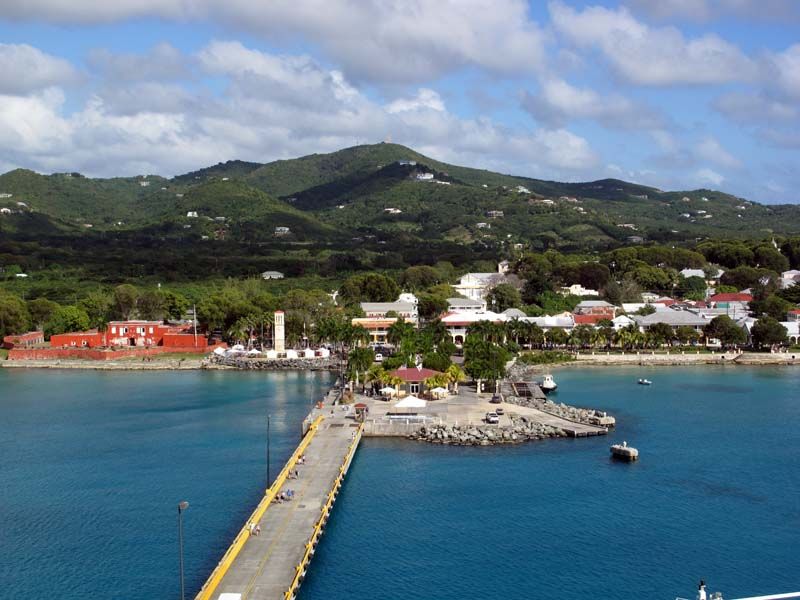 You walk down the pier toward the island, and on your left, there's a small set of stairs down to where the dive boat waits.
Here's a shot of our ship, by me standing near the dive boat.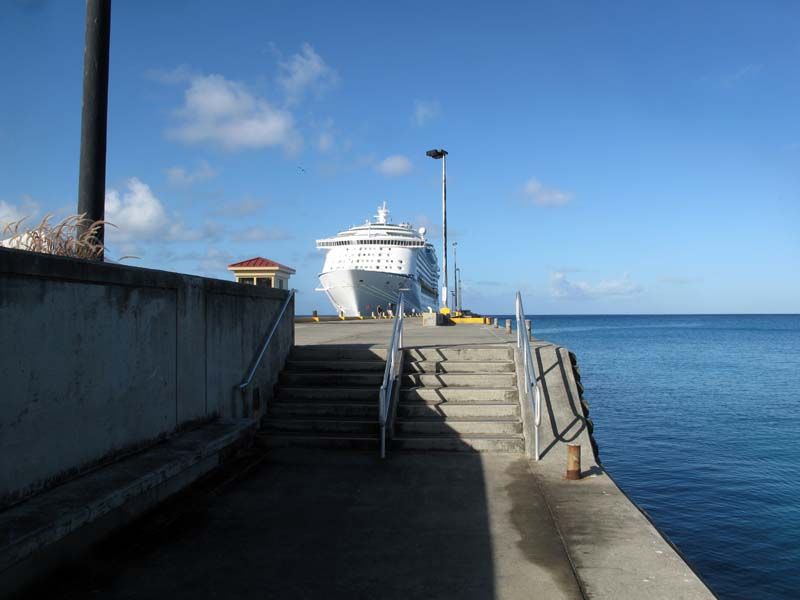 The boat: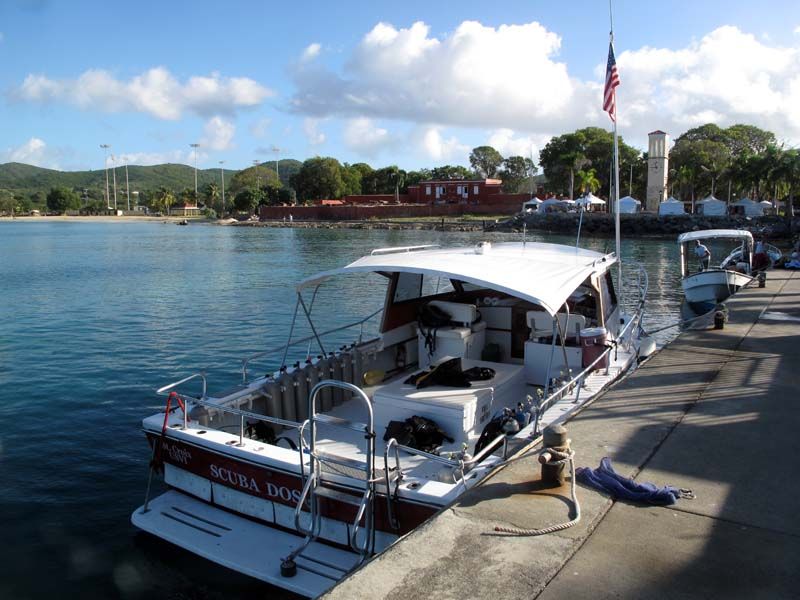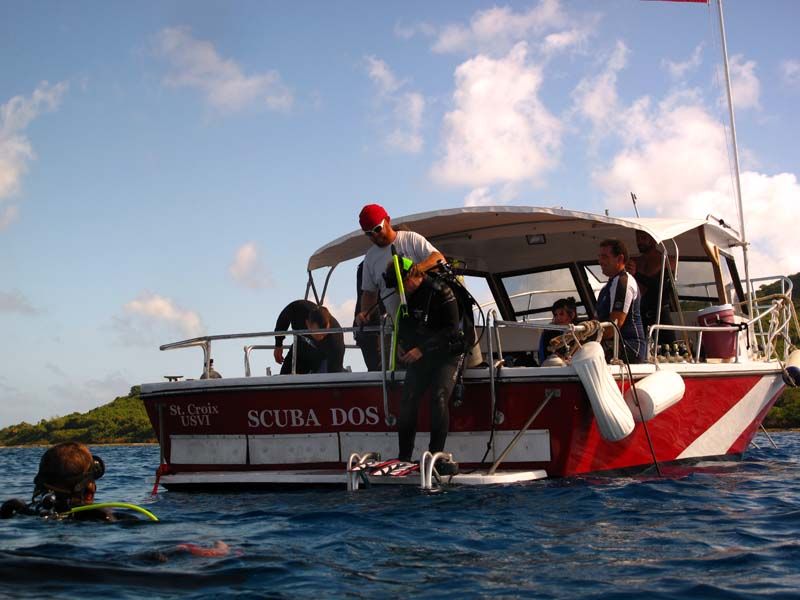 Oh, some 'St. Croix sure is pretty' pics; it's a mountainous island, green and good to see. At least from a distance it didn't seem as lush as St. Lucia.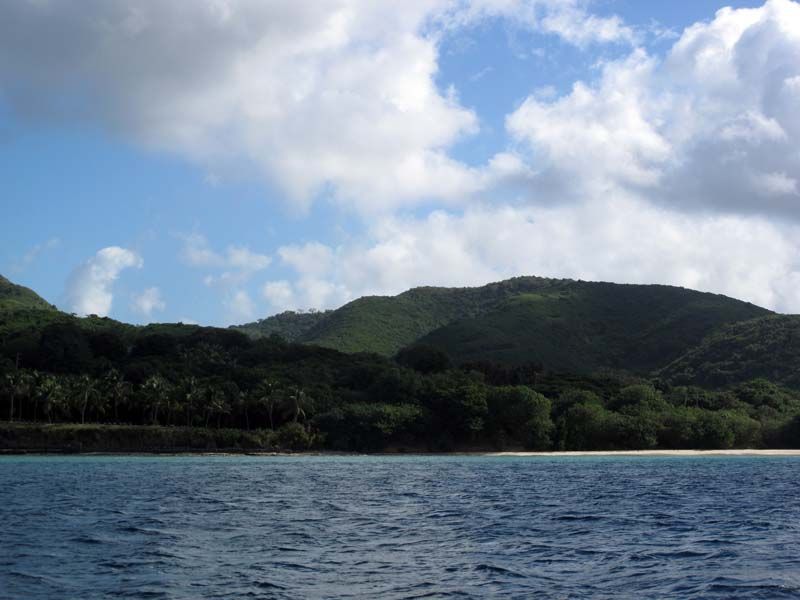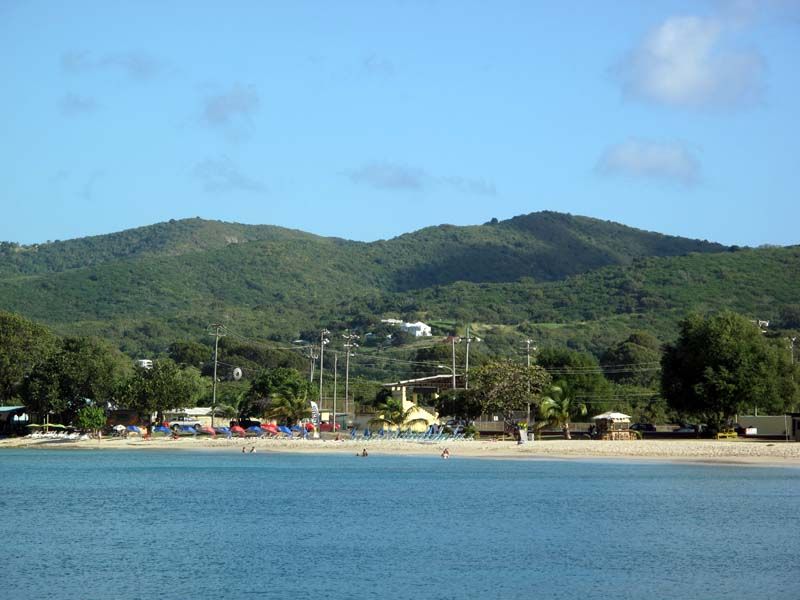 Overall, it was a good trip. I dove an Al80 on both dives. Our Dive Guide gave me some pointers on snap shooting, and while he didn't hunt lionfish on the dive, mentioned he sometimes comes back for them later. We didn't go far to the 2 dive sites.
Dive #1.) The Butler Bay Shallow Wrecks (Northwind, Virgin Islander, and Suffolk Maid are the names of the three wrecks). Sandy bottom, some wreckage. Mild current. I'd say viz. maybe 30-50 feet. Early on I spotted a small stingray over the sand; maybe a yellow stingray? Saw a school of jacks alongside a wreck. Did a swim through early on. Dive Stat.s: Duration 48 minutes, max. depth 60.19 feet, average depth 36.22 feet, temp. 77 degrees.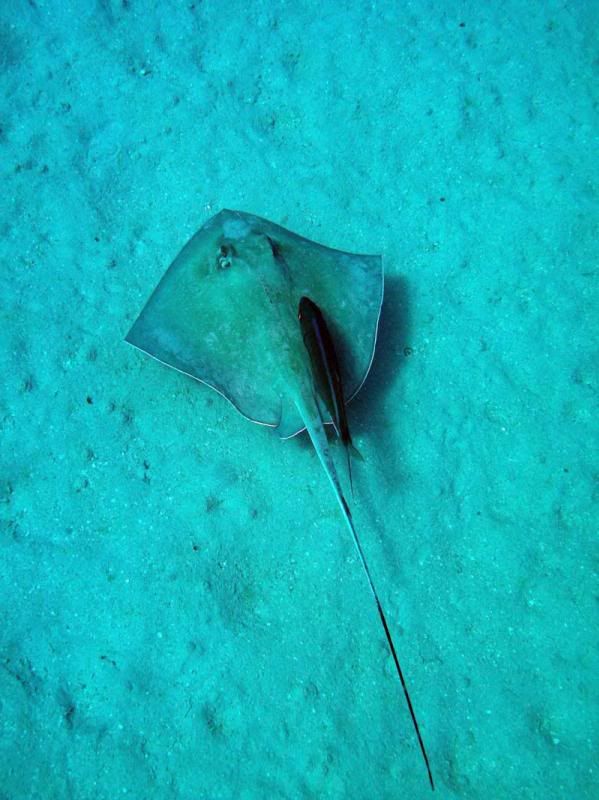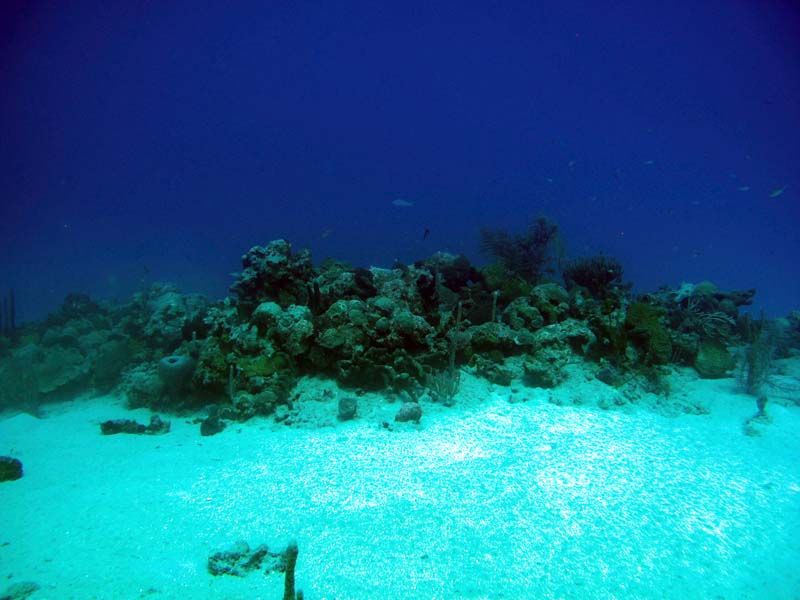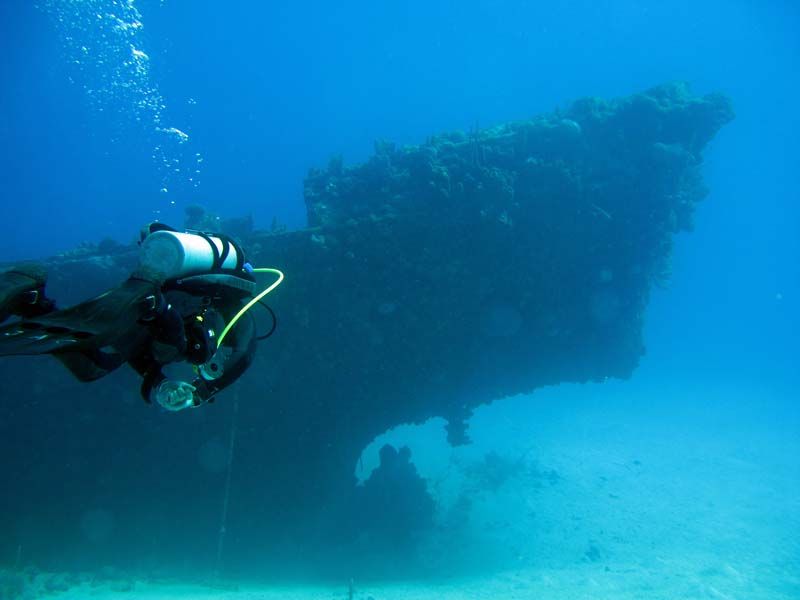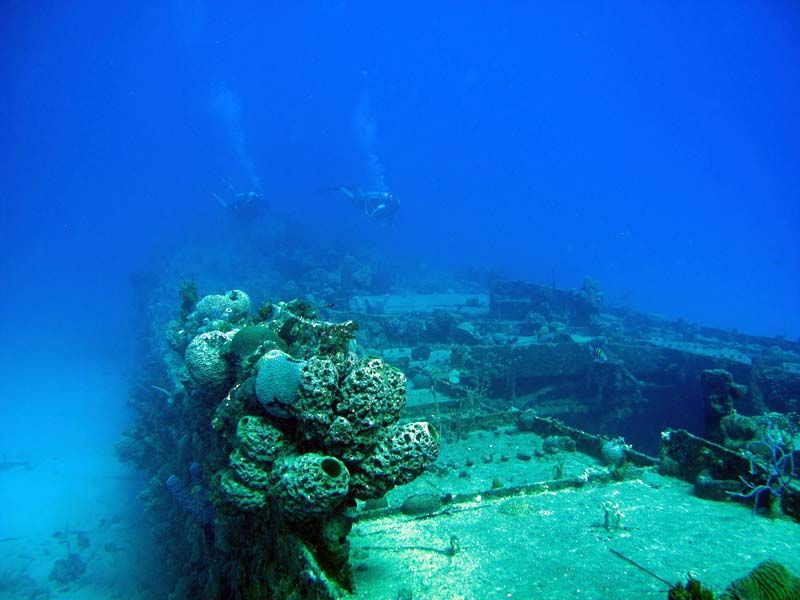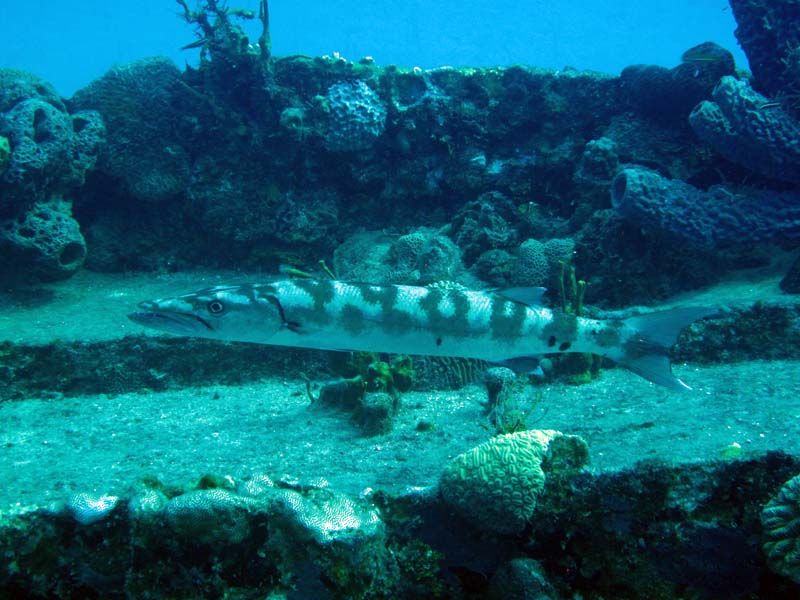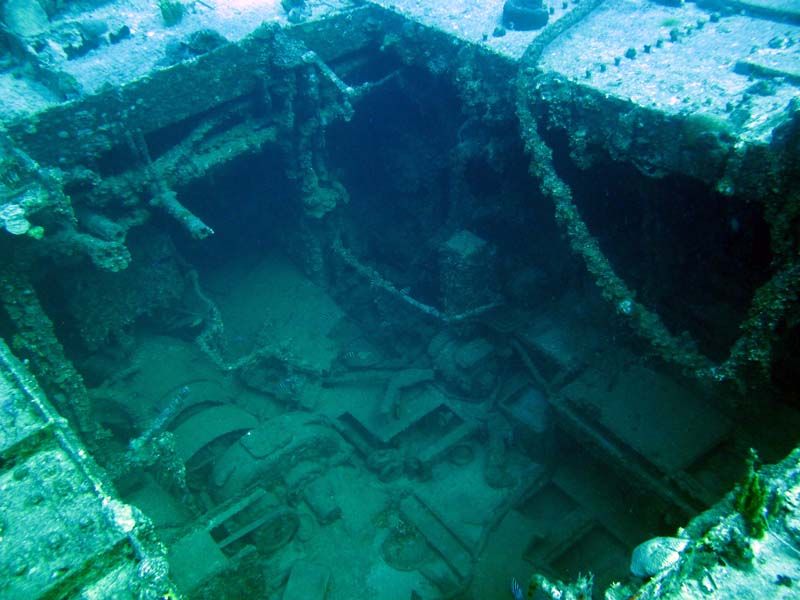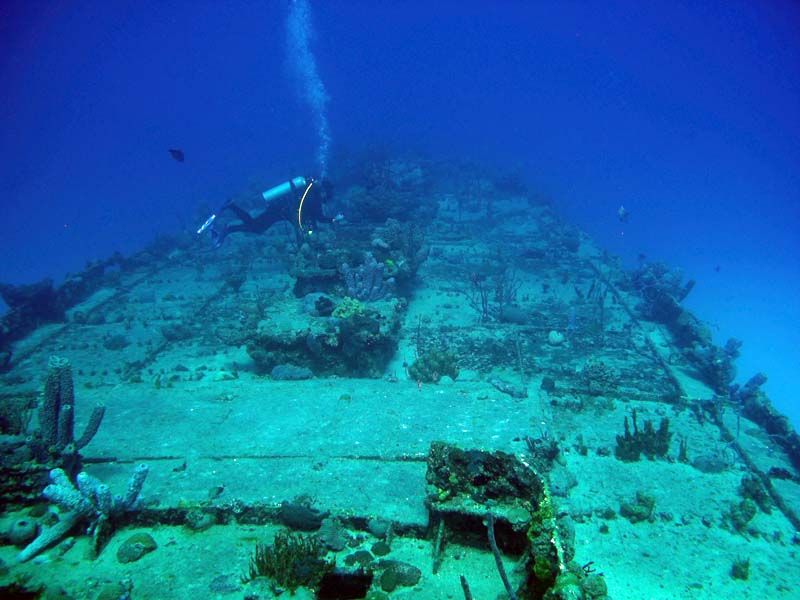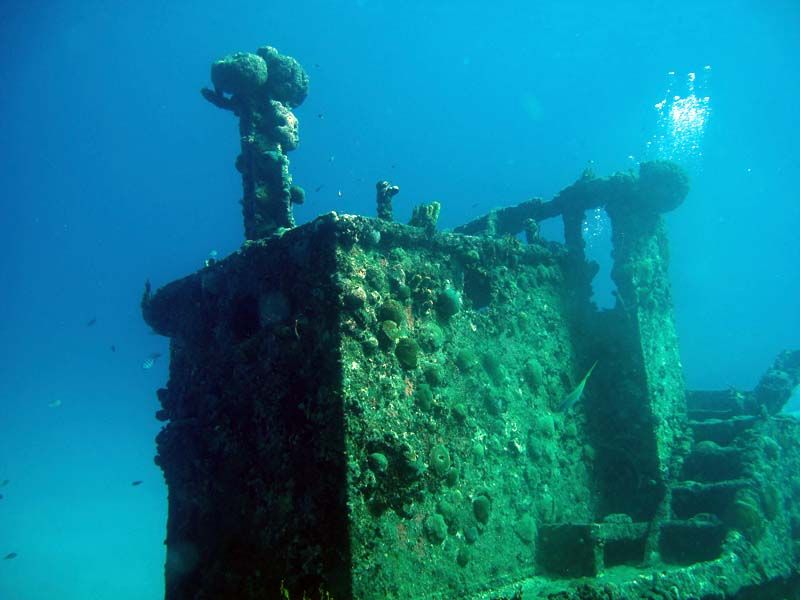 Dive #2.) Spratt Hole. I found a flounder. I'd say viz. maybe to 50 feet. Flat ground, mostly coral growth over it, almost like a boulder-strewn field but with coral growth, not rocks. Mild current, but in the first part of the dive a lot of particulates (looked like sand) in the water. Later our guide pointed out a small stingray (thought to be a southern stingray) in a sandy region. He pointed out 1 lionfish to me on each dive; the one on dive 2 postured defensively when I got close for a shot. Nice, long dive. My dive buddy and I think his wife were from Texas; she snorkeled. Dive Stat.s: Duration 67:30 minutes, max. depth 53.43 feet, average depth 31.31 feet, temp. 77 degrees.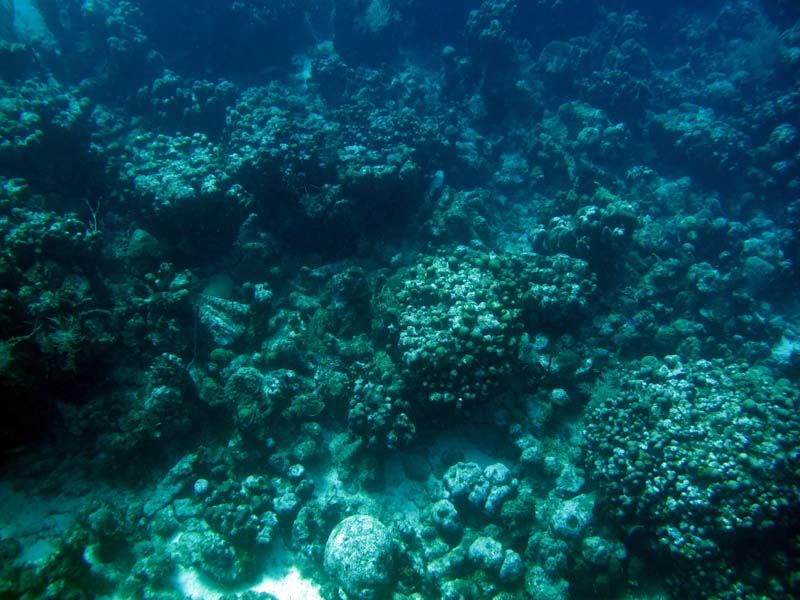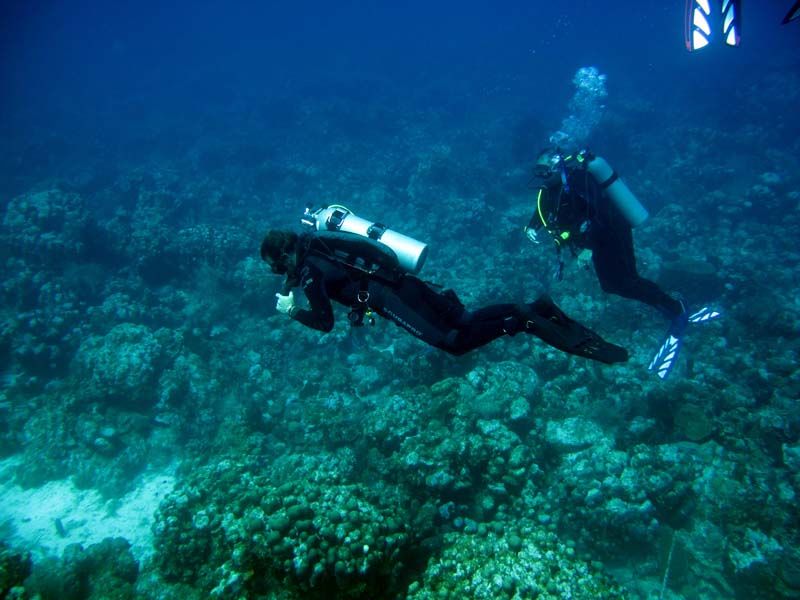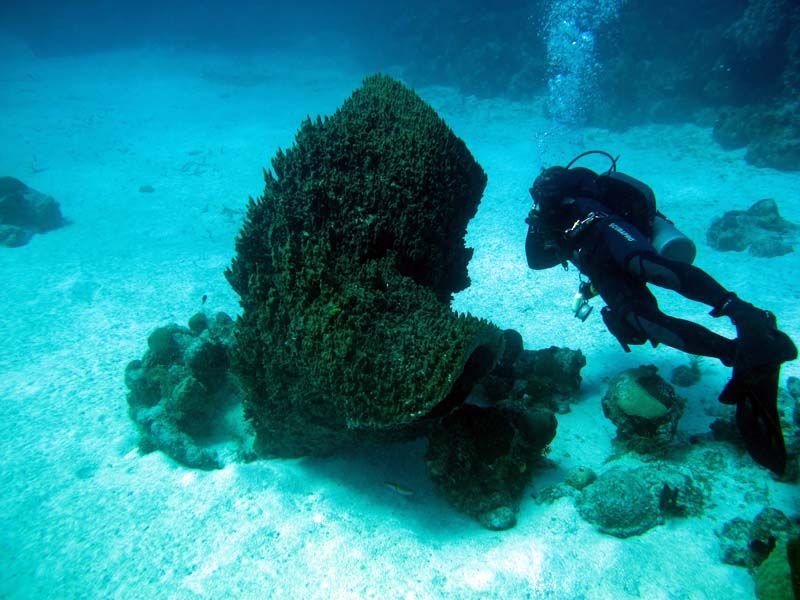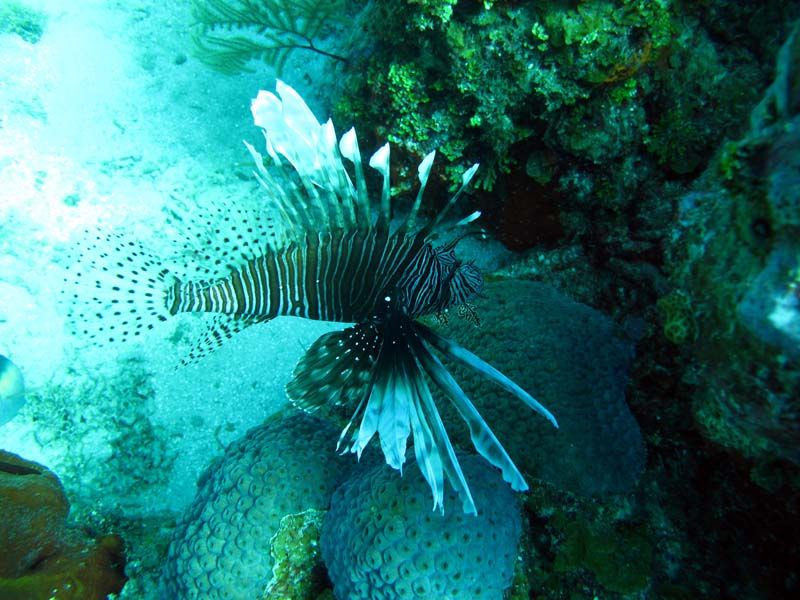 See the animal?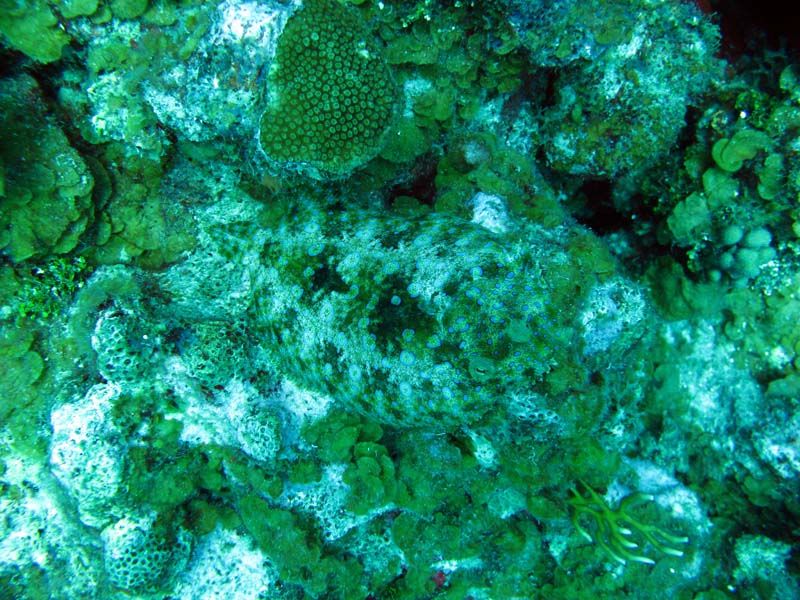 Richard.
P.S.: One fly in the ointment that's not their fault. I had a pair of used XL Atomic Smoke on the Water black split fins. When you get back on the boat, they take your fins to help free up your hands. And apparently put them in a pile. When I left the boat at the end of the dive, heading back to the ship, I gathered up my gear but didn't realize I didn't have my fins. We left port that night before I knew. So I e-mailed Ed Buckley to see what could be done. It took a few e-mails and phoning one of the dive shop staff, but here's the bottom line. He e-mailed me:
I just spoke to the dive crew from that day and your fins were taken back to the ship. Right after you left they found the fins and some of the other divers said they would take them back to the ship and have them contact you. I'm assuming that didn't happen since you didn't get them back. I don't know if they have an ongoing lost and found that would be able to get them back to you.

Sorry about that.
I called a customer service rep. with Royal Caribbean and she investigated the matter, but I got a voice mail that basically indicated R.C. didn't have my fins.
Weeeeeeeell...I guess now I know what I want for my birthday.
Richard.
Last edited: