I am selling off my home fill station. $5,500 firm for this entire set up.
I am no longer cave diving, so the station is collecting dust more than it is being used.
See my album of photos of this compressor station:
My Home Compressor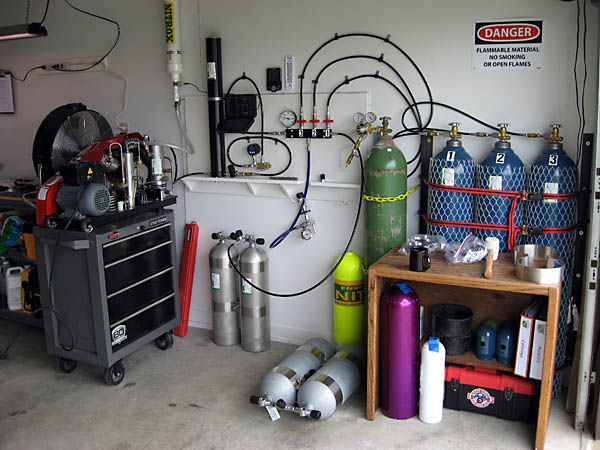 Scuba tanks are not for sale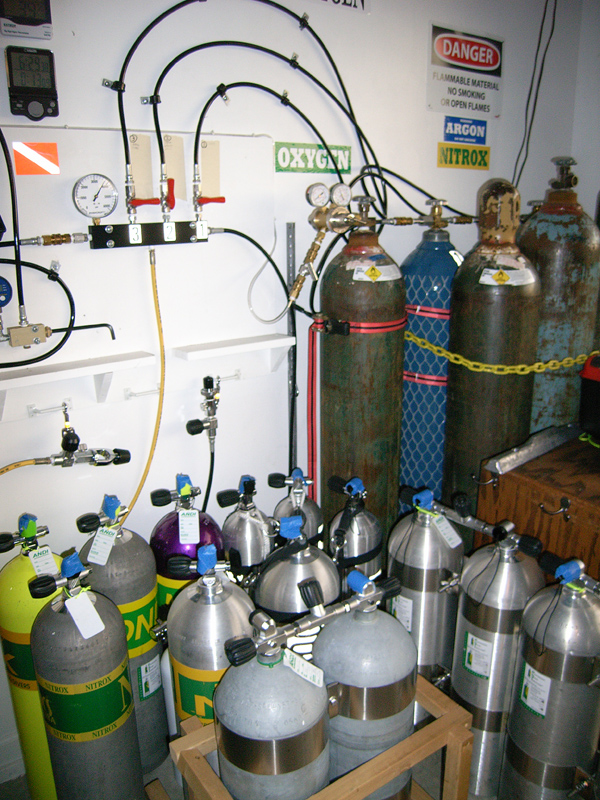 Scuba tanks are not for sale
There is so much stuff, and it would be so difficult to ship, that I am looking only for local buyers who can haul it away. The fill station is located 3 hours south of Pittsburgh, PA, and 60 minutes south of Morgantown, WV.
I have done continuous blends to EAN38.
I have banked 1,300 cubic feet of EAN32 at 4,500 p.s.i.
I used the transfill whip for partial pressure fills of EAN50 to EAN100.
I am willing to sell all three HC-4500 bank cylinders separately.
Currently the entire system has been taken down and is in clean storage. If no one buys this from me within the next 3 months, then it is all getting re-assembled in my new workshop and I'm keeping everything.
Intimidated by owning and operating a fill station? Check out this great article:
Background
My fill station includes:
1. Alkin 31 electric compressor 220V single phase
-less than 100 hours
-several pints of oil are included
-several new compressor filters are included
2. Nitrox mixing stick
-home made
-stable mixes, fluctuates only +/- 0.1% with continuous blends
3. Lawrence factor filtration tower
-one new filter is included
4. Back pressure valve w/ digital pressure gauge
5. OxyCheq oxygen analyzer
-needs a new oxygen sensor
- a new sensor might be available
6. Manifold panel w/ ball valves (not the valves shown in the photo)
7. Analog pressure gauge
8. Digital pressure gauge on the back-pressure valve
9. Yoke and DIN fill whips
10. Three HC-4500 bank bottles
-About 440 cubic feet per cylinder, or 1,320 cubic feet total
-like new condition
-need hydro
11. Oxygen regulator for Nitrox mixing
12. Oxygen transfill whip
-new condition
13. Ultrasonic cleaner for oxygen cleaning of parts (Crest CP500HT)
14. Digital stop watch
15. Digital hydrometer (humidity)
16. Digital thermometer (ambient air temp)
17. Miscellaneous spare parts (quick disconnects, connectors, etc.)
I am selling everything in the photos, however the following items in the photos are not for sale:
The green oxygen cylinder
The scuba cylinders
The tool boxes and tool cart
Tank bands
Hammer
Desk
Signs
Industrial fan
My setup produced extremely clean oxygen-clean gas at the fill whips.
My last whip output air analysis results from Analytical Chemists:
Carbon monoxide: 1 ppm (ambient air has 10 ppm)
Volatile hydrocarbons: 6.2 ppm (up to 25 ppm allowed)
Oils: Less than 0.01 mg per cubic meter (up to 0.1 allowed)
Solid particles: 0
Fibers: 0
Dew point: 95 degrees F below zero (very dry)
Odor: none
"This air sample meets the requirements for CGA Grade-E as well as CGA Grade-E Modified for Oxygen Compatibility."
How much would a brand-new fill station cost YOU? Here are the retail prices:
Compressor $5,000
Nitrox stick $200
Oxygen analyzer $300
LF Filter tower $825
Filter catridges $80
Back pressure valve $80
Digital pressure gauge $250
Manifold $155
Line valves $180
Analog pressure gauge $40
Bank bottles w/ valves $1,200
Fill whips $280
Transfill whip $180
Miscellaneous connectors and hoses $300
Ultrasonic cleaner $200
Total $9,270