I'm selling my Hollis TX1 for $325 plus shipping. I received a new Perdix for my birthday and do not need this anymore. It is 1 year old.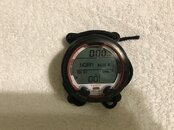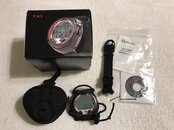 Manufacture Information:
AUP has been making dive computers for 30+ years. It is our innovation and attention to detail that have made us the leader in the industry. Building on this legacy is the TX1, the first Trimix dive computer ever produced by AUP.
The TX1 is simple yet extremely capable, supporting air, nitrox and helium gas mixes with the option for wireless HP. With up to 6 gases and 6 independent transmitters, there are unlimited options for the use of this product for both recreational and technical diving.
We utilize the proven Bühlmann ZHL-16C algorithm with user adjustable gradient factors, gases and dive profile, allowing the diver to uniquely control their decompression calculations. Also included with the TX1 is the powerful and easy to use HTCI (Hollis Trimix Computer Interface) software. HTCI allows users to view, edit and manage their dive data and computer settings from their PC computer. The software and required connection cable are free with purchase.
Up to 6 gases
Helium, oxygen, nitrox, air
Wireless air integration up to 6 transmitters
Audible alarms
Advanced 3 axis digital compass
PO2 settings from 1.0 to 1.6
Max operational depth 400ft
FO2 7% 100%
Set Helium from 0% to 93%
Powered by the tried and true Buhlmann ZHL 16C algorithm with adjustable gradient factors
User upgradeable firmware
Dive log up to 24 dives
Track E.N.D. and W.O.B. during dive
Change gas option during dive
Customizable dive screens