Messages

8,653
Reaction score

6,400
Location
# of dives

1000 - 2499
Summary
This is a 11-day (17-27 September, 2018) liveaboard trip around Cocos Island, Costa Rica with M/V Argo. The itinerary, as shown in Table 1, includes 7 days at Cocos, 3 dives / day to a total of 21 dives on 12 dive sites. Figure 1 shows the dive sites we visited (marked by red dots next to the dive flags). We did check dive in Chatham, several dives around Manuelita Island for schooling hammerheads, Small Dos Amigos for whaleshark, Punta Maria for galapagos sharks and The Arch for DeepSee submarine ride to 1000 feet depth. The most impressive dives to me were around Manuelita island to see up close and personal of scalloped hammerhead sharks in their cleaning station.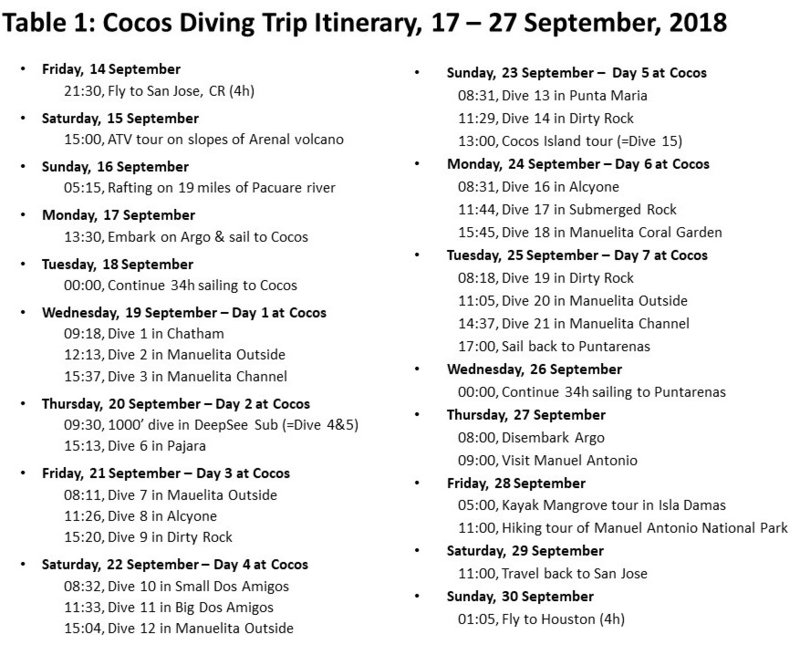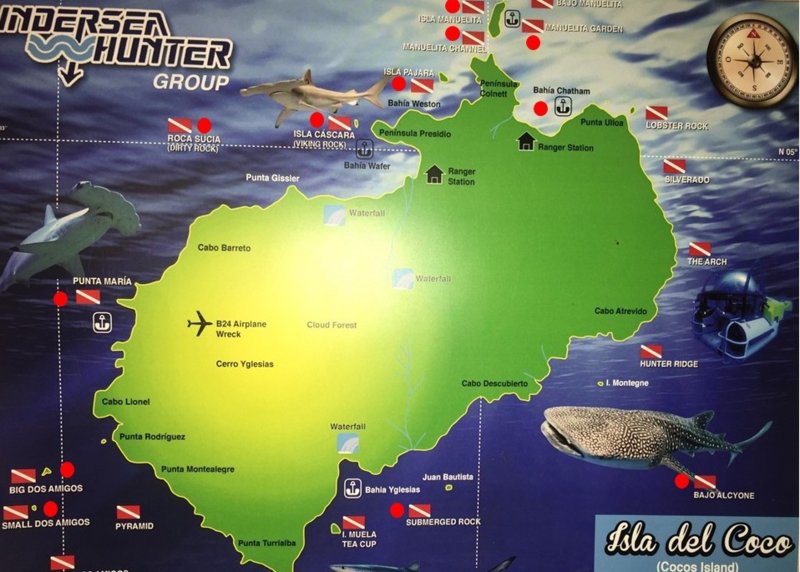 Figure 1: Cocos Dive Sites (Courtesy of Undersea Hunter Group)
Here is a short video of the highlight of what I saw during the 7 days of diving in Cocos:
Background
A quick browse of Cocos location, I learnt that it is about 312 miles (502 km) from Costa Rica coast (Puntarenas), 34-38 hour boat ride from Puntarenas to Cocos Island. Figure 2, courtesy of Google Earth, shows where Cocos is located in Western Pacific, about 5° 32' N and 87° 04' W. I read the water temperature of Cocos would be about 79-81 °F (26-27 °C) around September. So, I brought a 3mm full and 2mm shorty wetsuits. The water temperature turned out to be as expected and I ended up wearing the 2mm shorty over the 3mm full wetsuit in the second half of the trip.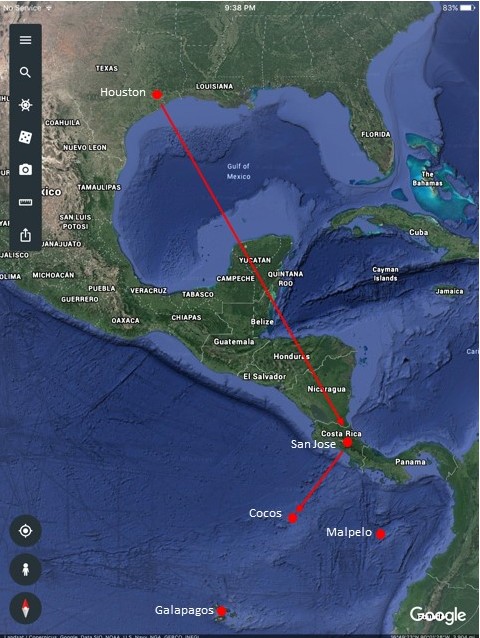 Figure 2: Cocos Trip Path (Courtesy of Google Earth)
The Liveaboard
M/V Argo, as shown in Figure 3, is 130-foot (40m) long luxury yacht with 9 staterooms for up to 18 divers, carrying 3 skiffs and a 3-man submarine (DeepSee). It runs by 14 crews (captain, cruise director, engineer, host, chefs, skiff pilots, submarine pilots, and divemasters). Two skiffs are for taking two groups of divers to dive sites. Each group consists of 8 divers and a DM. One skiff for towing DeepSee to the Arch.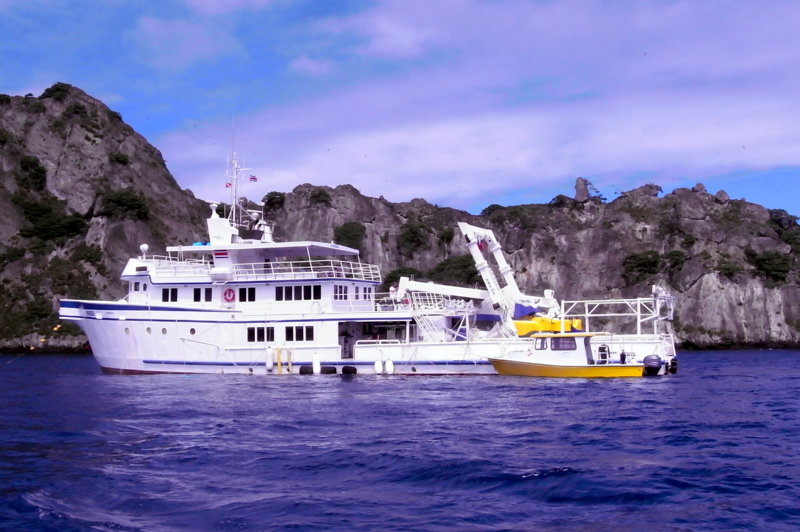 Figure 3: M/V Argo anchoring off the eastern side of Manuelita Island
The boat layout is very functional for divers. Galley, dinning, and entertainment areas are on the main deck. Dive-gear station is on the back of the main deck. Six of the staterooms are in lower deck and the remaining staterooms are on the upper deck. The roof of the upper deck is a sundeck with open air sitting area for people to relax in between diving.
The lower-deck stateroom, where I stayed, has 2 single beds, private head and shower, plenty of closet space for 2 divers. A desk and a chair are station on the corner, opposite of the entry door. Plenty electrical outlets in the cabin for charging my electronic gadget (laptop, rechargeable batteries for camera, video lights, etc.), which is my prefer charging station instead of the hot, humid & salty outside charging station that some liveaboards made you do, which would lead to fogging up my camera lens during diving and poor electrical contacts on the camera buttons due to corrosion. The housekeeping crew did a great job of keeping our cabin cleaned and orderly.
Setting up your dive rig and handling it were a breeze. Once you kit up your BCD and reg on a tank at your assigned station in the dive-gear station, the crew would take your gear to the skiff and place it to another assigned station at the skiff. It stayed there for the whole trip. The crew would refill the air or nitrox directly into your tank after each dives, right on your station on the skiff. There are shelves, next to the tank station to store your mask, fins, etc. When we were ready to go diving, we just donned our wetsuit, listened to the dive briefing and walked to the skiff as everything else was already set up and ready to go at the skiff. No need to haul our gear in / out the skiff before and after each dives. Even our camera rigs would be brought to the skiff once they were ready to go.
For water entry, the divers were divided into 2 subgroups. Subgroup A would sit on the port and starboard sides of the skiff. Then we would all back roll together into the water. Once subgroup A divers were away from the skiff side & descent, subgroup B divers would do the same as subgroup A and enter the water together with the guide. Subgroup A and B then gathered at the bottom and finned to the dive sites.
The meal (breakfast, lunch & dinner) were buffet type in most of the days. Full course of dinners were served during special day (e.g., Welcome dinner). The food were excellent. Special dietary meals were served to those who asked for them.
More detail info about the yacht can be found here:
http://www.visitcocosisland.com/undersea-hunter-group/
The diving
We did 3 dives on most of 7 diving days to a total of 21 dives, with the option of swapping two morning dives or an afternoon dive for a submarine ride and another afternoon dives for a land tour of Cocos Island. The divemaster would ring a bell 15 minutes before the scheduled dive, for donning the wetsuit and dive briefing before getting on to the skiff. Typical 3-dives / day schedule is as follows:
07:00 – breakfast
08:00 – dive 1
11:00 – dive 2
13:00 – lunch
15:00 – dive 3
19:00 – dinner
After each dive, when we were back on the liveaboard, we would be provided with some water, fruit juice, fruit bits (pineapple, watermelon, orange, cantaloupe, mango, etc.) for hydration.
Day 1 at Cocos
The first day of diving was fantastic. Water temperature was about 81°F. Dive 1 in Chatham, 55 feet depth. It's calm & shallow dive site, a good place for check dive. We saw white-tip reef sharks, flounder, green moray. Dive 2 in Manuelita Outside, 77 feet depth, was epic. We saw some schooling hammerheads, as shown in Figure 4, below.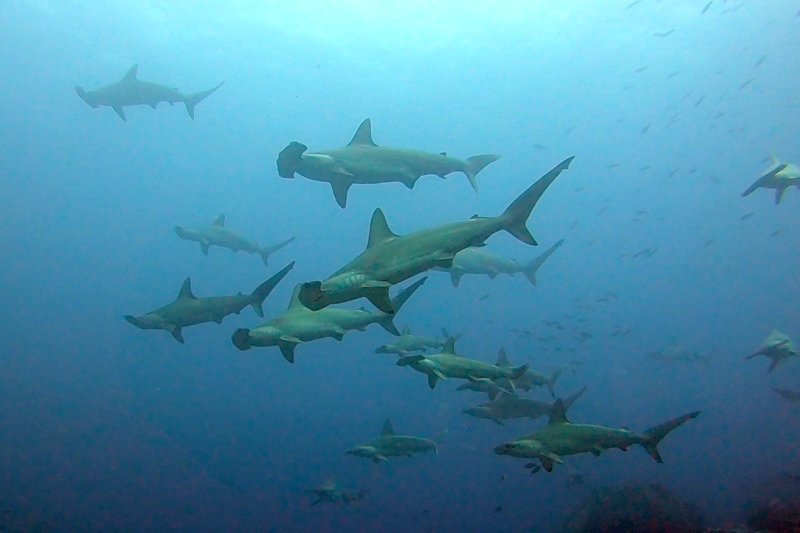 Figure 4: Schooling scalloped hammerhead sharks around Manuelita Island, Cocos.
Some of them were hanging out in their cleaning station, being cleaned by barberfish. Since hammerheads are very skiddish fish, to get really closed to them, as closed as a foot away, as shown in Figure 5, we had to sit still on the rock, holding our breath when one was approaching us, taking video without video light or still picture without strobe light.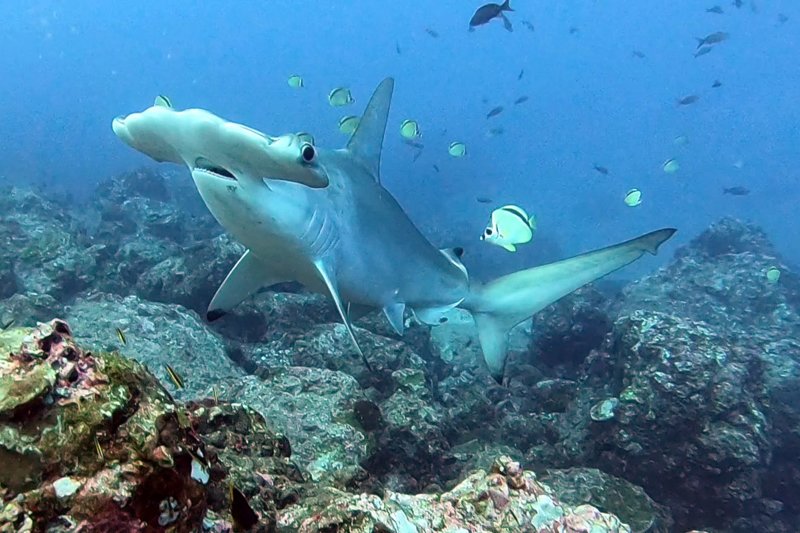 Figure 5: Scalloped hammerhead shark being cleaned by barberfish in Cocos
Dive 3 in Manuelita Channel, 81 feet depth, was even better than Dive 2, more schooling hammerheads. Below are a couple videos of the hammerhead sighting during all the dives around Manuelita Island:
Day 2 at Cocos
The second day of diving at Cocos was a once in a lifetime experience. My dive buddy and I signed up for riding in the DeepSee submarine. Figure 6 shows the DeepSee submarine few feet underwater before descending into the abyss. It's a 3-hour trip down to 1000 feet depth site called "The Arch" to see some of the deep-water critters and fish.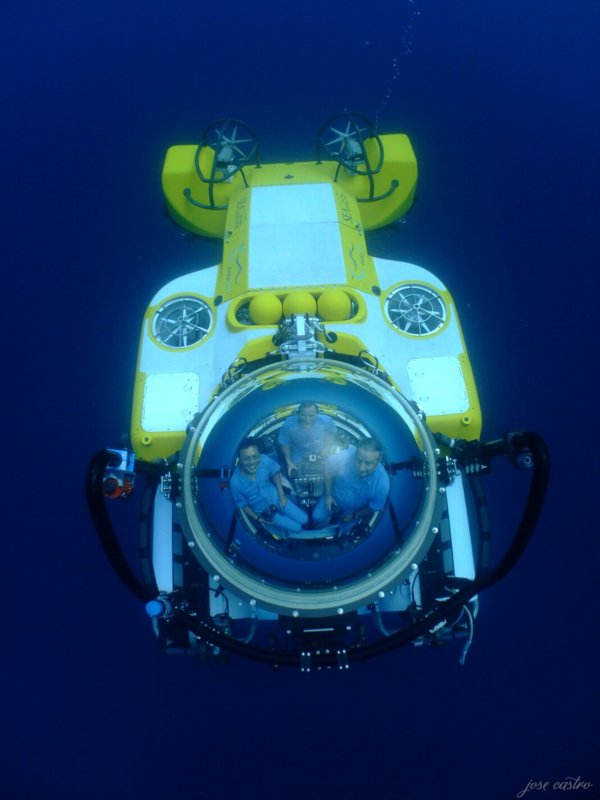 Figure 6: Going to 1000 feet under the sea with DeepSee Submarine (Courtesy of Undersea Hunter)
We saw gelly-nose fish, scorpionfish, spider crab, grouper, frogfish, mobula ray, etc. With limited lighting at depth my GoPro video didn't turn out well. So none of my deep-water fish / critters are posted here. Fortunately I found a great video of similar trip made by Jonathan Bird of Blue World, that pretty much describes our experience, as shown below.
The trip was done from 9:30 to 11:30AM, replacing the 2 morning dives. In the afternoon we did the Dive 6 in Pajara, around 92 feet depth. We saw, the usual suspects (white-tip reef sharks, hammerheads, moray eel, lobster) and an unusual bright-yellow giant frogfish, as shown in Figure 7, below.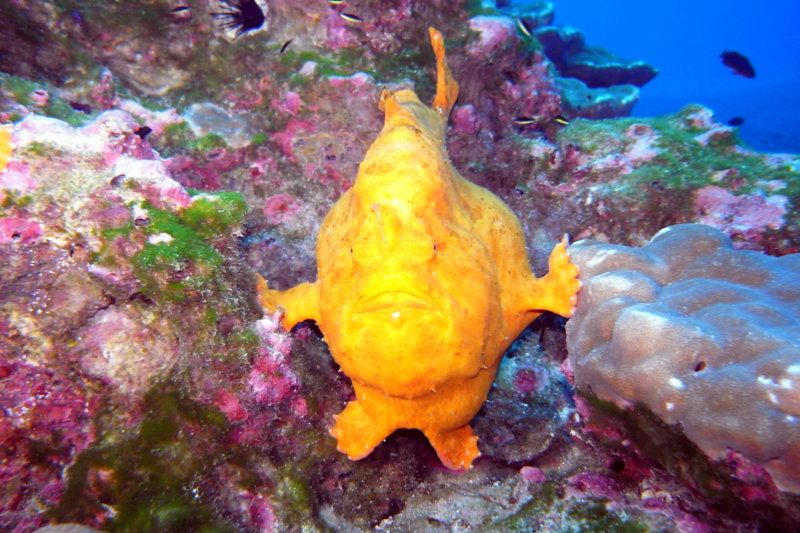 Figure 7: Giant frogfish of Cocos
Day 3 at Cocos
The third day of diving was almost a repeat of the first day. Dive 7 was in Manuelita Outside, 81 feet depth, seeing schooling hammerheads and marbled stingray. Dive 8 was in Alcyone, 97 feet depth, seeing the usual suspects.
Dive 9 was in Dirty Rock, 86 feet depth. We saw lots of fish & critters there, such as black jack, big-eye jack, blue and gold snapper, hawkfish, lobster, spotter boxfish, guinea pufferfish, green moray, Cocos barnacle blenny, giant hawkfish, and rare zebra moray eel, as shown in Figure 8, below.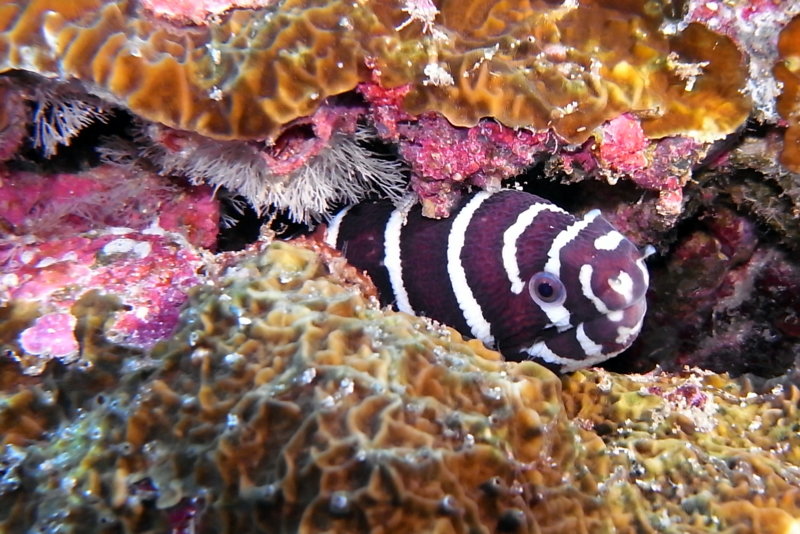 Figure 8: Zebra moray eel of Cocos.
There were lots of white-tip reef sharks there too, as shown in the video, below
To be continued to Post 2