Trip Report – Belize Aggressor III – February 5 to 12, 2022

Getting there
My husband and I flew from Dallas, Texas to Belize City with a stop in Houston on Southwest Airlines on Friday, February 4, 2022. We had to take a Covid test to enter Belize City and we opted to do the rapid test within 48 hours before departure. The day before our trip, a winter ice storm hit Dallas. Our trip to the airport was on iced-over roads but few cars were on the road and we skated in safely. The plane left about 30 minutes late but we still made our connection.
Upon arrival to Belize City, we hired a taxi for $25 to take us to our hotel, the Radisson Fort George Hotel and Marina. This hotel is right across from the pier where the Belize Aggressor III & IV dock. We had dinner at the hotel restaurant and booked a trip to Altun Ha (Mayan ruins) for the following morning since we would not be boarding the liveaboard until 3:00 p.m. The trip was $74 per person and included entry to the ruins and transportation.
Pre-dive trip
At 8:00 a.m. on Saturday morning, Lascelle from S & L Tours arrived to take us on our tour. I mentioned that I liked birds and was happy to discover that our guide was also an avid birder. He took us to several ponds along the way to look for birds and he would stop when I spotted some along the roadway. We had some pretty good rain showers on the one hour trip to Altun Ha but we still managed to see wood storks, Northern jacanas, a white ibis, kildeer, an acorn woodpecker, red-lored parrots, a roadside hawk, groove-billed anis, white-collared seedeaters, vultures, a snail kite, brown pelicans, great kiskadee, a yellow warbler and a limpkin. At Altun Ha, we saw an olive-throated parakeet, a gray cracker butterfly, green iguanas, the black orchid (national flower of Belize), and banded peacock butterfly. The rain stopped when we arrived at Altun Ha and the Mayan ruins were pretty awesome to see as well. We forgot to apply bug spray and the mosquitoes were hungry.
We returned to the hotel around 12:30 p.m. and had lunch at the hotel. Staff from the boat picked up our luggage from the hotel lobby around 2:45 p.m. and we walked to the boat to board at 3:00 p.m.
The boat
After boarding, we unloaded our gear that would be used on the dive deck and then were shown to our cabin to unload the rest of our items. There was no room to store our smaller suitcases under the bed, the large ones were taken elsewhere on board for storage.
We were in Cabin #5 which had a full-size bed with a twin bunk above. There were a couple drawers in the side of the bed. The sink had a cabinet beneath it and the toilet and shower were in a separate room. The room had a control for the amount of air (not temperature). This worked well for us. We turned it off when we would be coming in wet from a dive and about half way on the rest of the time. We had no issues with the toilet clogging which is not always the case on a liveaboard.
The meals were very good. All were served inside and not buffet style. There were fifteen of us on this trip which was three less than maximum capacity. All but one Canadian were from the US. By the end of the trip I knew all of their names and had a chance to get to know them all at least a little.
Tall customers (including my tall husband at 6' 3 ½") had a problem with the location of the bell on the dive deck. Otherwise, the dive deck was roomy and well laid out.
The Diving
We had five dives each day (Sunday through Wednesday). These were generally at 8:00 a.m., 10:15 a.m., 2:00 p.m., 4:15 p.m., and 7:30 p.m. On Thursday, our first dive was at the Blue Hole. Then, the boat travelled to Turneffe Atoll for a 2:00, 4:00, and 6:00 dive making a four dive day. On Friday, we had two early dives (6:00 a.m. and 8:30 a.m.) before needing to head back to port. Our total possible dives for the week was twenty-six.
On Sunday our dive sites were on the east side of Turneffe Atoll. We had two dives at Grand Bogue and three at The Notch. We saw nurse sharks, green moray eels, a pipefish, the whitespotted toadfish (endemic to Turneffe Atoll), an octopus, and a squid. On Monday our dive sites were in the Lighthouse Reef area. We had two dives at Lighthouse Wall and three at Cathedral. We saw reef sharks, a hawksbill turtle, neck crabs, a common Comet star, and a white-speckled nudibranchs. On Tuesday, we had two dives at Quebrada and three dives at Painted Wall (named for the painted tunicates found there). We saw a spotted moray eel, yellowhead jawfish, a common octopus, a black longsnout seahorse, moon jelly, goldentail moray eel, painted tunicates, skeleton shrimp, and ocellated crab, a sculptured slipper lobster, and a velvet shrimp. The wall was covered with beautiful orange sponges, red and purple rope sponges, blue azure sponges, and green branching sponges. Overnight, the wind had become stronger and Wednesday started rather overcast. Our fist dive was at Half Moon Bay Wall which had been a favorite site from previous trips but was murky with a strong current this morning. We moved to Shark Point for the next two dives which had better conditions. We saw a blue and midnight parrotfish, wire coral shrimp, and a reef shark. We moved to Secret Garden for the late afternoon and night dive and saw a juvenile octopus, viper moray eel, club-tipped anemone, a school of tiny arrow squid, and neck crabs. Thursday morning was the Blue Hole which is marine sinkhole reaching about 400' in depth. The max depth allowed for the dive was 130' which brings you to some giant stalactites. During the safety stop we found leech headshield slugs everywhere in the sand. After this dive, the boat returned to Turneffe Atoll and the next three dives were at a site called Black Beauty (for the black coral found there). We saw more green morays, another Hawksbill turtle, orange Florida corallimorphs, and the whitespotted toadfish croaking. On Friday we moved to the west side of Turneffe Atoll to a site called Amber Head North. We found a yellow longsnout seahorse, the largest slender filefish I've ever seen, a pair of eagle rays, several spotted drums, great anemones, and a sharksucker looking for someone to attach to!
Dive Staff
The dive masters on board (Captain Jerome, Captain Ken, Dive Instructor Shawn, and Videographer Jay) were all nice and slow paced. Ken, Shawn, and Jay were all especially helpful about pointing out creatures they found. The night dives were all packed with creatures! We saw an octopus every night, squid on all but one of the night dives, lots of lobsters, channel clinging crabs, etc. Sometimes more time is spent searching than finding so these were all really fun.
On Friday after lunch, Covid tests were administered on board. There was an early evening awards ceremony with snacks and drinks. I was awarded the Iron Diver medal and certificate for completing all 26 offered dives along with seven other members of our group and I received a certificate for completing my 800th dive while on board.
On Saturday morning, after a continental breakfast on board, we left the boat at 8:00 a.m. We spent some time in the hotel lobby and shopped at the half a dozen street vendors that were open (no cruise boats coming through yet). At 11:00 a.m. a shuttle took us back to the airport. The cost was included in our trip cost.
This was our first trip on the Belize Aggressor III. We had been on the Belize Aggressor IV on two previous trips. We really enjoyed both boats and will be back again.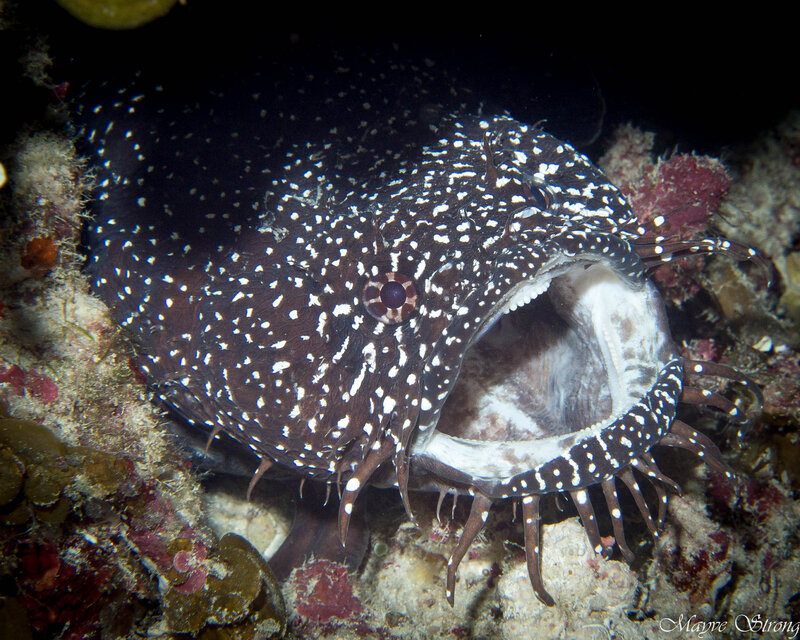 Whitespotted toadfish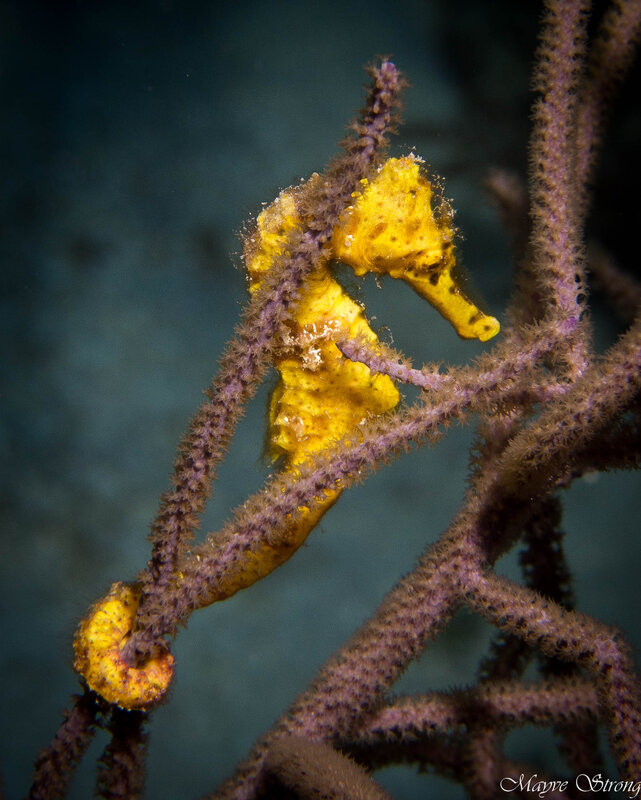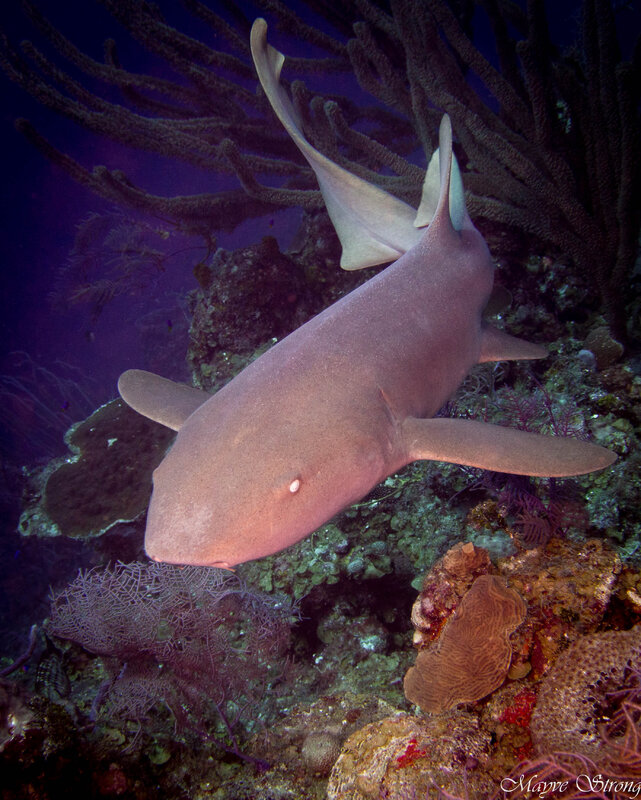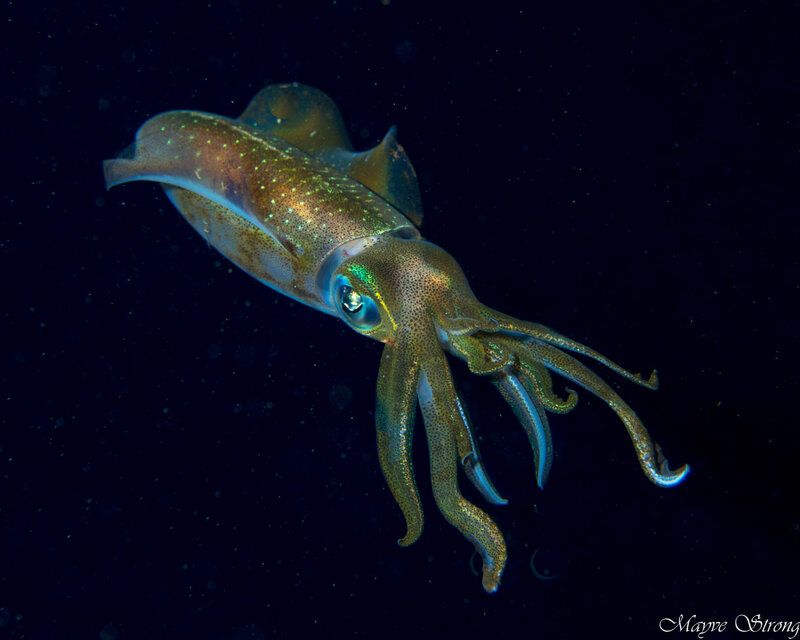 Common octopus