Messages

437
Reaction score

49
Location
# of dives

500 - 999
Palau, Truk & Yap Trip Report- Apr/Jun2014
Palau- Neco Marine & Aggressor II 18-28th April 2014
Weather- Great weather, blue skies, flat seas, a little rain.
Land Based- Best Western Hotel. Very average hotel, good location. Would probably stay at Passion hotel next time.
Neco Marine day dive. Good operation, not too many divers. Nice bar/café area.
Aggressor II- Excellent live-aboard. Only 8 guest onboard. Lots of space, nice sun deck with hammocks, good dive platform.
Food was excellent. Some of the best I have had on a live-aboard. The Hawaiian chief prepared some delicious meals.
Diving- Generally 4 dives a day. Water 28-29C, good visibility. No current at any of the dives. Not much action at Blue corner or Peleliu. No need for reef hooks.
Highlights- Jelly fish lake, Blue holes & Olong Channel. Nice to see so many large fish at Peleliu and Olong Channel. So many Trigger fish & large Grouper. Must have been mating season. One Manta for 60 mins at the German channel on an early morning dive.
Summary
Excellent live-aboard, great food and very good diving. Palau is hard to beat for the variety of great diving available.
Truk – Blue Lagoon Dive Resort 27th Jun- 5th Jul 2014
Resort
The resort setting is really nice, a pacific paradise. Resort itself is old & basic. Food was ok. Sundowner bar was good fun with cheap cocktails.
Overall the resort is adequate as long as you are not expecting 5* service.
Weather
Mixed. Arrived in excellent conditions, blue skies, flat seas. Weather became more unsettled and we had a storm that eventually grew into Cyclone Neograw once it moved north. Overall the weather was ok and generally did not impact the diving as the lagoon provides sheltered seas. We could not dive a couple of the wrecks for a few days due the waves.
Diving
Amazing. My 2
nd
time to Chuuk and I saw a lot more this trip. Generally 2 dives a day, one at 9am , the other generally after lunch at 13.00. Only did 1 extra day dive.
The resort was very quiet so we only had 4-5 divers per boat. Last 2 days it was just myself & the dive guide so I managed to dive some of the deeper wrecks. So many highlights. Favourite wrecks, Hoki Maru, San Francisco Maru, Nippo Maru. The last time I was in Truk I was on the Odyssey. The Odyssey is great for dive briefings, telling you about the wreck, etc (one aspect the Blue Lagoon Dive Shop did not do). The food is also much better on the Odyssey. However I much preferred the land based trip. 2 dives a day were ok, less divers on a wreck, really nice resort setting, great bar for a sundowner and cheaper. Diving land based I was always with a guide which was not the case while I was on the Odyssey.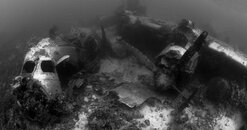 Summary
Fantastic week of diving. The wrecks are amazing. The resort was more than adequate and I had a great time. (Tips 1.Make sure you have a good dive light 2. Research the wrecks online before you travel).
Yap- Manta Bay Resort (6th-12th Jul 14)
Resort
One of the best-run dive resorts I have visited.
Great service, from the airport transfer to the dive operation.
Weather
Mixed. Started with bad weather which slowly improved. Selection of the dive sites impacted by weather. Towards the end of the week we had blue skies, calm seas & access to all dive sites.
Diving
Not so good. Bad luck/bad weather.
Unfortunately the primary attraction, the Mantas, did not come to play. We had a couple of single Manta encounters during 6 dives at the Manta cleaning sites. When we had Mantas they did not hang around. Diving at a cleaning station is not much fun without Mantas.
The other diving was ok. The dive highlights were Vertigo (lots of small sharks without bait in the water) & the Canyons, my favourite dive , a must do dive in Yap. Generally the reef dives had excellent viss >30m, nice hard coral but not much fish life.
Summary
Really nice place/great resort but we did not have much luck with the Mantas so the diving was disappointing.
Last edited: