Messages

50
Reaction score

187
Location
On December 3, 1962 a Swiss mathematician named
Hannes Keller
reached the astonishing depth of 1,000'/305M in the open ocean off Catalina Island in California. Keller was outside his diving bell
Atlantis
for no more than two minutes and his companion died during the ascent, but the fact remained that an inspired amateur from a land-locked country had demonstrated that the limits to human exploration and exploitation of the sea lay much deeper than all but a few specialists suspected.
Keller started diving in 1958 in the Swiss lakes, making his own regulator out of wood because he lacked the tools to machine metal. It quickly dawned on him that unlike space exploration, diving was a field where an individual carrying out his own research could have a big impact, and that the way to do that was to break the world depth record. First, however, he had to find someone who could help him on the physiology side. That man was
Dr Albert Bühlmann
, chief of the cardio-pulmonary laboratories in the department of medicine at the University Hospital, Zürich.
Together, they devised a procedure that consisted of compressing rapidly with a series of mixtures containing high concentrations of oxygen and a maximum of nitrogen, switching to straight helium-oxygen only towards the bottom, then reintroducing nitrogen as deep as possible in the decompression, with subsequent complete substitution of nitrogen for helium, to accelerate the elimination of helium from the tissues. Decompression was a continuous ascent rather than being done in stages. This combination of switching inert gases and breathing high partial pressures of oxygen throughout the dive (always greater than 2.0 atmospheres) to shorten decompression was naturally kept under wraps and remained the object of intense speculation for several years.
In November 1959 Keller descended to 400'/122M in the Lake of Zürich in an upturned 50-gallon oil drum weighted down with large stones. The following year he progressed to less hair-raising methods when the French Navy, with some prodding from Cousteau, put the chambers of the Groupe d'Etudes et Recherches Sous-Marines (GERS) in Toulon at his disposal.
The first dive, to 820'/250M, went off in November 1960, and a further two dives, to 1,000' and 700'/213M, followed in April 1961. During the compression phase of the 1,000' dive Keller went from 300'/91M to bottom pressure in two minutes (a compression rate of 350'/107M per minute!), which he reported produced dizziness and tremors.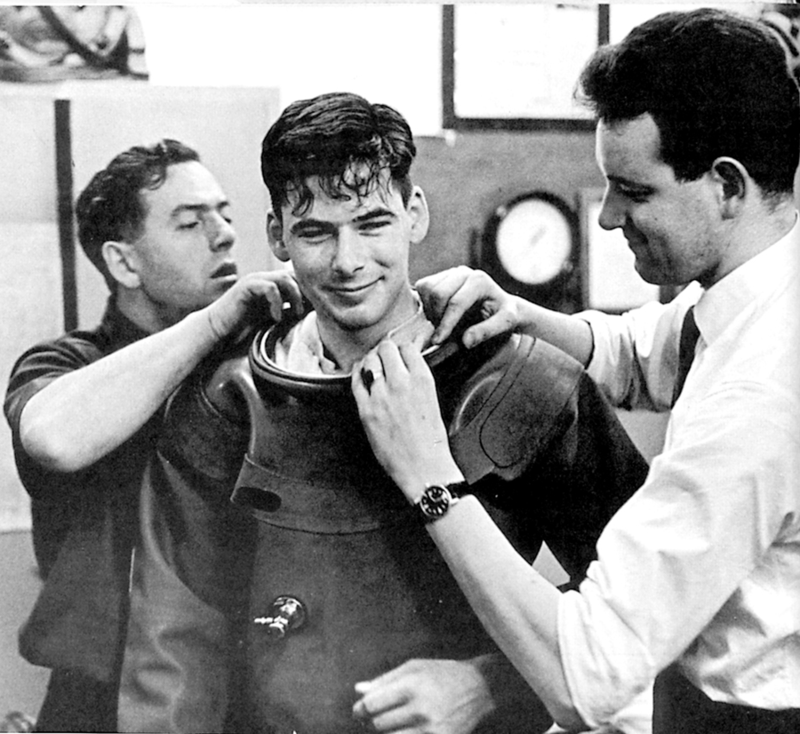 Keller being suited up at the US Navy Experimental Diving Unit (US Navy)
​
On May 10 of the following year, at the
US Navy Experimental Diving Unit
(NEDU), he went to 700'/213M, decompressing in the mind-boggling time of approximately 100 minutes. Dr Val Hempleman, the Superintendent of the Royal Naval Physiological Laboratory, who was present at the demonstration, was so astonished by Keller's performance that he followed him around for several hours afterwards, expecting to see some adverse reaction; but Keller was totally unaffected.
Nonetheless, the general reaction at NEDU to Keller's demonstration dive was that he was a physiological freak, and there was considerable doubt whether the procedure would work with anyone else. Keller decided the only way he was going to prove that his method was valid, and persuade the US Navy to give him a research contract, was to take someone else with him on a deep dive.
Having a flair for publicity, Keller went to see Kenneth MacLeish, an editor at
Life
, and proposed that he buy a round-trip ticket to 700'/213M. The price: $2,000.
Life
would get a dramatic and unusual story, and Keller would show the navy and everybody else that an ordinary human being could make such a dive and return to surface pressure without incident, just as he had. MacLeish agreed to go.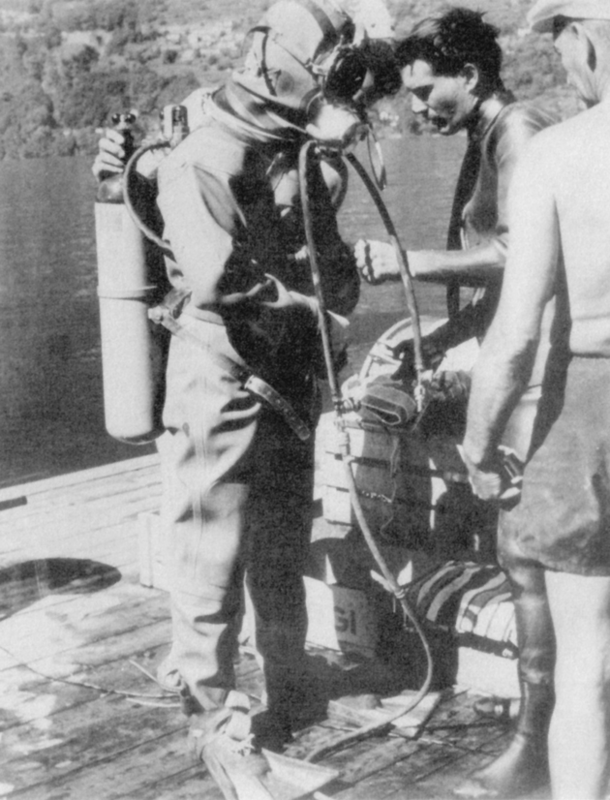 Keller, in the constant-volume dry suit, before the dive in Lake Maggiore
​
The dive took place on June 28, 1961 off Locarno, at the Swiss end of Lake Maggiore, in the presence of Lieutenant Commander Charles Aquadro, the official US Navy observer. There was no diving bell. The divers were lowered from a raft, on a platform that Keller and his assistants had built specially for the dive, breathing through mouthpieces from onboard cylinders of premixed gas.
There were four changes of gas on the way down and four on the way up, starting and ending with pure oxygen and preceded at the surface by one hour of oxygen to flush the nitrogen out of the tissues. Both divers wore Spirotechnique constant-volume dry suits, with two bottles of "universal mixture" on their backs in case of an emergency ascent. MacLeish received three days of training, and then it was straight to a new world record of 728'/222M.
Having thus shown the sceptics that their approach was indeed applicable to the average man, Keller and Bühlmann got two research contracts with the US Navy for a series of deep dives, using different subjects, to 500'/152M, 650'/198M, 820'/250M, and 1,000'/305M. The dives took place in 1962 at the University Hospital, Zürich, in a two-place chamber designed by Keller and built by the Swiss firm Sulzer. Those dives led up to the 1,000'/305M dive at Catalina Island.
For the dive in the Pacific, there was no question of descending and ascending exposed to the water as in Lake Maggiore. This time Keller drew up a plan for a cylindrical diving bell, which Sulzer then manufactured. Financial support for the venture came from the US Navy, with Shell Oil, as observers, providing the coring vessel
Eureka
as the support ship. The second diver was Peter Small, an English journalist who was a co-founder of the British Sub-Aqua Club.
On October 30, 1962 in what was the last dive of the US Navy series, Keller and Small spent five minutes at 1,000 feet in the University Hospital chamber. Decompression lasted 270 minutes with the divers breathing through mouthpieces.
This was a dry run for the open-ocean attempt and went off without any decompression sickness or other difficulties.
---
Continued in the next post​