Messages

13
Reaction score

12
# of dives

100 - 199
I realize this is about a month late, but perhaps someone in the future that is researching or considering a Galapagos trip in September will appreciate the detailed dive report. I will have a separate thread on my review of the Calipso liveaboard. This is mostly dedicated to the diving.
Dates:
Sep 16 – Sep 23, 2021
Location:
Galapagos
Liveaboard:
Calipso (Baltra itinerary)
Dives:
22 offered, including 1 night dive
Marine Life
- Whale Sharks, Hammerhead Sharks, Penguins, Mola Mola, Eagle Rays, Turtles, Moray Eels, Seahorse, Octopus, Sealions, Iguanas, Batfish, Galapagos Shark, White Tip Reef Sharks, schools of fish and barracuda. I'm sure I left out some marine life, but those were the notable highlights to me.
I don't know if it makes a difference or not, but I will note that this trip had a full moon the last night we were at Darwin. I have read / heard different opinions on the full moon impact.
No huge schools of hammers, but it also was not the time of year for such conditions to be likely. Only a few whale shark sightings.
Temperature / Protection -
I wore a 2mm hooded vest below a 7mm wetsuit. A couple divers felt they didn't have enough protection at 7mm and others (including myself) felt fine with 7mm. First five days were in the low 70s (with thermoclines / surges in the low 60s), one day in the 50s, final day in the upper 60s.
Current
– I was told by some that relatively speaking the current was not very rough (compared to how it could have been). There definitely was a current at Wolf & Darwin and without question one needed to hold on to the rocks to stay in place. I did bring a reef hook, but learned quickly that it was easier to just hold on to the rocks in most situations. That said, most of the current was at depth, and not much of any at the surface (we did not have issues getting on the panga). We never had to reach for a line on the surface like I have had to do in other locations.
Visibility -
I think was pretty good, especially for time of year. I was told the week before visibility was poor, but this week was good. I would speculate most dives at Wolf & Darwin (and other sites) were about 60 feet? I will add some photos (mostly Darwin), not the best photos from the dives, but an attempt to show conditions.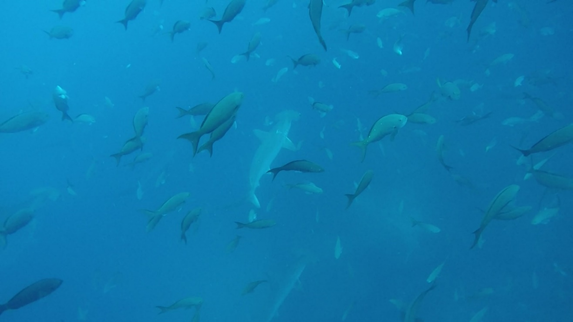 At Darwin, when away from the platform and rocks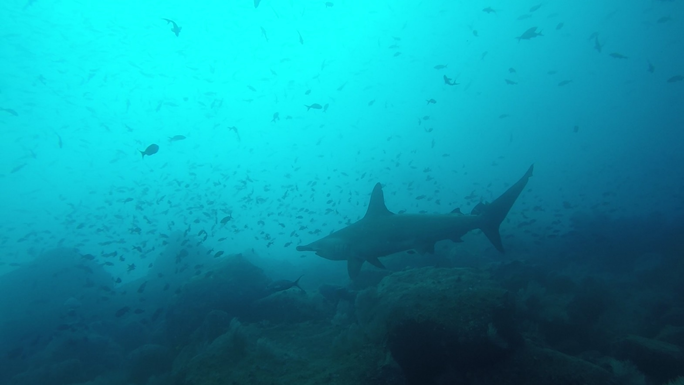 The hammers often did not get too close to us, but on one or two dives they got a bit closer.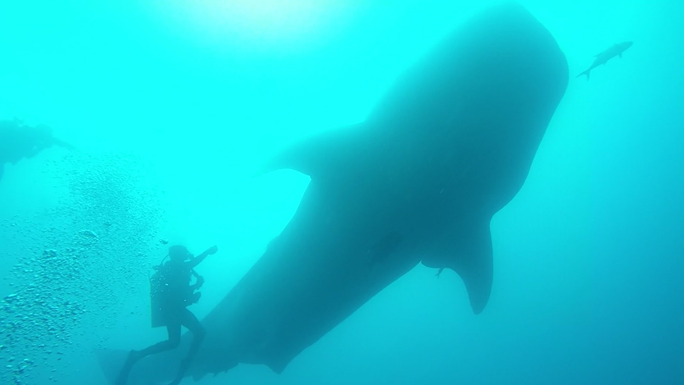 We got much closer, but focusing on the visibility and not my subpar photography skills. Props to our dive guide for seeing a couple of whale sharks that seemed a bit hard to see from the platform we were watching from. Some were easier to spot than others.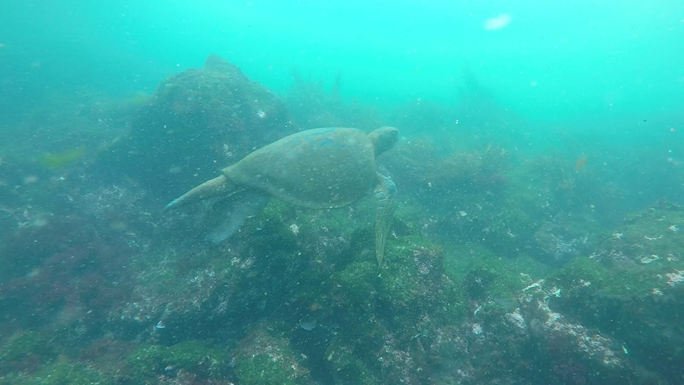 Cabo Douglas (Fernandina) – conditions here had the least visibility of all the dive sites, but still was not bad.
Dive Log:

Thursday, September 16th
– Dive #1 -
Punta Carrion (Baltra)
. This is the check-in dive after getting on the boat. Dive was around 4pm. Temp = 71F at surface and 69F at bottom (42 ft). Dive was about 44 mins. Lots of very large starfish; white tip reef shark and blue nudi branch. I was not cold at all. Dive guide had all the divers check their weight at the surface and when at the bottom we each had to clear our mask and release the regulator out of our mouth and recover it.
Read rest of the thread for remaining dive report.