Hey everyone; up for grabs is my Halcyon 21w HID canister light.
New bulb, never flooded, battery always conditioned.
Everything is in great shape, pics speak for themselves.
$650 shipped anywhere CONUS
Selling ONLY because I am now suddenly a civilian (hooray sequestration).
Nothing wrong with the light; wish I could keep it but I need to pay rent.
Only been in the ocean 10 or so times (rinsed throughly immediately after). All other diving was in freshwater. No corrosion.
If you'd like to inspect it; I live in South Jersey and am willing to drive anywhere reasonable in the tri-state area.
Pics: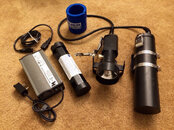 Last edited: