Chromodoris gordonii
Staff member
ScubaBoard Supporter
Messages

7,128
Reaction score

6,310
Location
# of dives

1000 - 2499
PART 1
This was a last minute decision after returning from a trip to the UK where I had to go at short notice to sell up my (Sister and I) family home following the death of my mother back in January. I had returned very tired emotionally and physically and needed a pick-me-up.
One of my friends (Leah) suggested I join her on her trip to Dahab in Egypt. After 24 hours of thinking about it and checking with the Ministry of the Interior (spouse), I checked the flight availability as well as hotels and decided to go.
So a week later I met up with Leah and another diver from Barracuda Dive Centre (BDC) at T2 in Dubai airport and we flew together to Sharm El Sheikh (SSH) in southern Sinai in Egypt. The Flight was on Fly Dubai, a local budget airline associated with Emirates but with less frills. Still good nonetheless and I flew business class with 40Kg of baggage allowance.
Arrival at SSH was not too bad as we were the only flight, but it was slow. Baggage was on the carousel by the time I got through immigration and customs was slow with having to open one of my cases as well as my hand baggage, which was full of photographic equipment with no issues.
Leah and Alla got through the process probably around 40 minutes after me. There was no interior waiting area, and I was waiting for them in the exit tunnel of the airport with many taxi drivers inhaling and exhaling smoke. Not a mask in sight apart from the one I was wearing. Apparently Covid doesn't exist here!
The drive to Dahab took around an hour and was uneventful. The road is pretty good by Egyptian standards and only a couple of check-points.
After checking in to our respective accommodation we met at Divers House had a coffee and wandered into the grand metropolis of Dahab from the southern end to the northern part, which was a 30 minute slow stroll.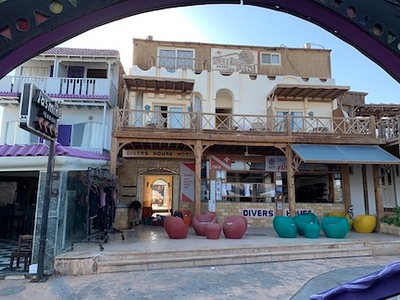 We returned to Divers House and had a beer then some dinner before retiring around 10pm, which is when I started to organise and assemble my camera housings, strobes etc.
Day Two
The plan for today was three dives at The Lighthouse, two in the morning and one night dive.
For someone who has had over 700 dives in the Red Sea I was still blown away by the clear water, an amazing 50m visibility.
The dive briefing had mentioned an elephant, which I was rather confused about. However I soon saw what that was ….. full size metallic elephant!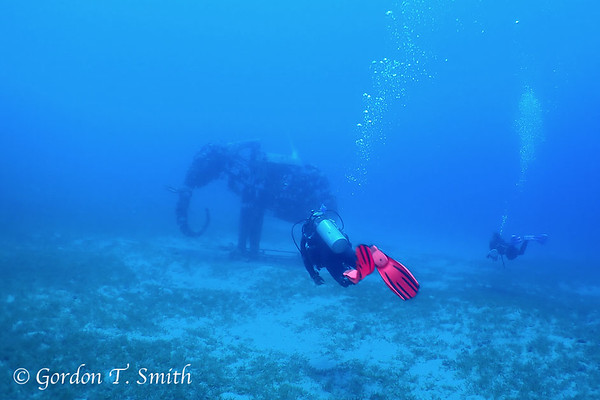 I had decided to use my TG6 in a Nauticam housing with a wide angle port attached and it worked quite well, but I did have a few missed shots as it failed to focus properly. As we had spotted a frogfish on the elephant I removed the WA lens to try and get a shot of it but failed due to its position etc.. However I was more successful on the night dive using my D7100.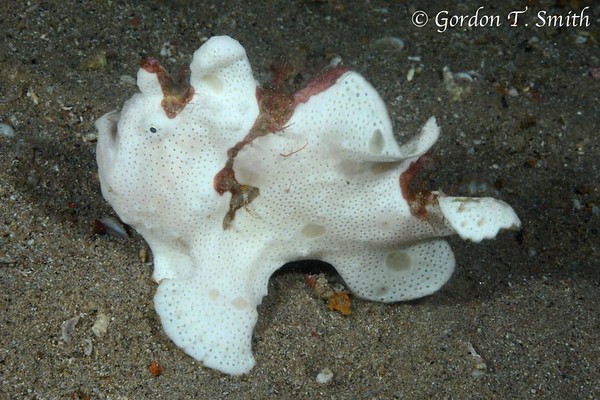 I would say in general, that the Lighthouse area is a pretty good macro place apart from the couple of statues that have been put there. To the north of the Lighthouse there is some good corals and to the south areas of seagrass that apparently have seahorses.
We did see octopus, a couple of nudis including a Spanish Dancer (night dive), triangular box fish, spotted boxfish, two massive stonefish together and I fear we interrupted something that was going on here ha ha.
We had also requested Nitrox for today as all dives were going to be 25-30m, and some was found but no analyser. After much debate about not diving Nitrox unless I analysed it myself, an analyser was borrowed from another dive centre and everything was sorted out.
Day Three
I decided to chill out and do only one dive on the house reef while the others headed elsewhere. I also had a leaky LP inflator, and wanted to sort that out before diving the Thistlegorm the next day. The tools at the dive centre were not fit for purpose (being polite), so I ended up going into town and purchasing a new inflator mechanism for EUR21.
The next part was to ensure we had Nitrox for the Thistlegorm, and again while that could be arranged in Sharm, the boat apparently did not have an analyser! In the end we took three Nitrox tanks that were left over and analysed by us to use on the second dive on the Thistlegorm.
Once all that sh!t was organised I did a single dive at high tide level with a local guide Rabi, who was there while I took some photographs.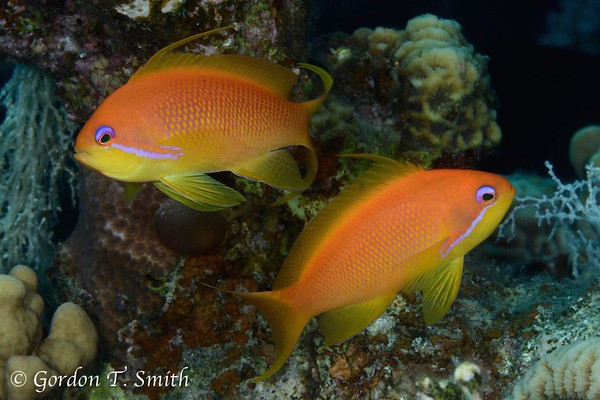 I brought the D7100 instead of the TG6, and that was a mistake.
Some great WA opportunities in this area, but hey ho, I hoped to dive it again before we left.
Day Four - Thistlegorm and Ras Mohammed
04:00 departure from Dahab. Morning did not start too well as the sole of one of my left sandal partially came off making it impossible to use, so I had to use my travel shoes. These were replaced by some crappy neoprene beach shoes at a petrol station just outside of Dahab for EGP130, but they did the job. I still had to take my shoes on board the boat at SSH because the van we had was not the one we would be taking back to Dahab.
Arriving at SSH marina we unloaded the gear including three Nitrox tanks onto a trolly to take to the boat.
Our original plan was to have Nitrox for all of us for today's diving and while this could be arranged there was no analyser available to test the gas, so we had to opt for air on dives one and three. This meant that Yasser, our guide, ended up with a 17 minute deco on the second dive, which was bloody crazy.
The boat had 31 divers onboard and not exactly what I was expecting. Most of them were definitely tourists and few appeared to have their own gear.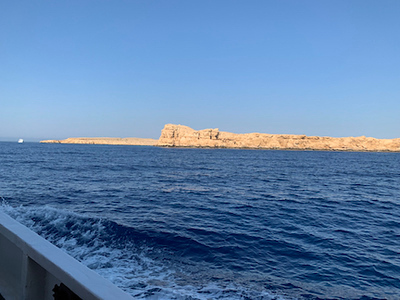 Above: outward bound passing Ras Mohammed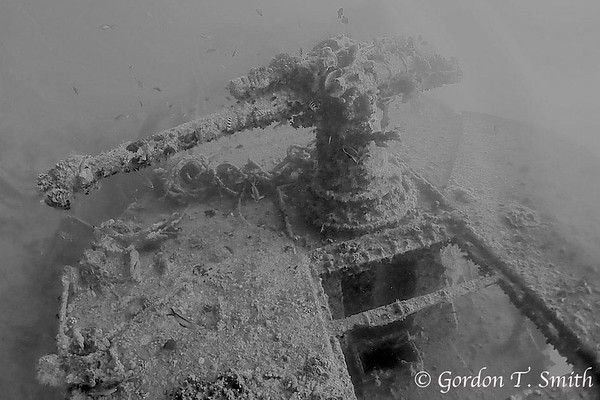 The first dive was pretty cool with an external swim around, vis wasn't too great compared to what we had been diving in Dahab (and later at Ras Mohammed). The second dive exploring the inside was a bit crazy with too many people and because I paused to take photos, lost track of my group as I let people pass me and ended up swimming through the wreck until I reached an area where I could ascend out of the wreck and my group found me. There are plenty of exit points on the wreck.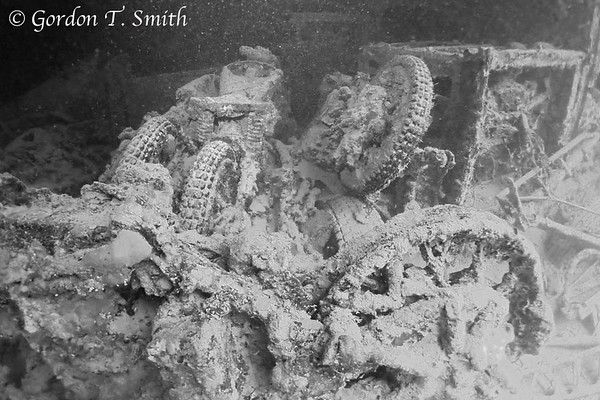 At this point the current had built up and vis declined to about 5m. When I ascended with Yasser (our Egyptian guide) I had to leave him once I completed my safety stop as he was on air and had a deco obligation. I would have shared my Nitrox with him but he didn't have a computer that could switch gases, and I wasn't sure how long we'd both last sharing out the remaining 60 bar in my tank, but he still had 100 bar of air.
I plan to do another Thistlegorm trip as I barely got to appreciate it, but not on a cattle boat with so many people. It needs to be dived from a live aboard before the day boats arrive (although we were the only one that day, which was good), and then dived again after the day boats leave.
The boat trip from SSH to the Thistlegorm is three hours.
Our third dive was at Ras Mohammed and it was as good as I remember it from 25 years before although we had some current to fight at one spot but we also had a pleasant drift too. Having Nitrox would have been an advantage here also. We only found one Humphead wrasse, but by then my camera battery had died (Murphy) and also the largest crocodile fish I'd ever seen.
Getting back on the boat was also a challenge and a rope was being used to help pull divers back to the ladder, which was one designed to climb whilst wearing fins, something I'm not used to.
From Ras Mohammed back to SSH, it's. Short 60 min trip. Once docked we got our gear on a trolley and then back to a small minibus that took us back to Dahab in around 90 mins. After a chicken dinner and two beers I crashed out around 9pm.