Messages

204
Reaction score

243
Location
# of dives

200 - 499
Background Information:

Sogod Bay Scuba Resort:
https://www.sogodbayscubaresort.com
Dates of Visit: August 21, 2019 – September 1, 2019
I learned about this resort from the Dive Happy podcast:
Diving Sogod Bay Podcast - Dive Happy
Please refer to a detailed report about this resort at the Dive Happy's website:
Diving Sogod Bay 2017 - Dive Happy
The following is a very short summary from the above report:
"Sogod Bay in Southern Leyte is still one of the Philippines' best kept dive secrets. There's a smorgasbord of pristine reefs, abundant fish life, lots of critters and the promise of whale sharks – and very few other people there."
In my report I will try not repeat information available in the above reports, but just express my and my wife's opinion and provide some tips.
Reservation:
I made a reservation directly with the resort, which is my preferred way of booking. They accept payments by major credit cards, and if you process payment in local currency there is no extra charges.
Communication with the resort via email was easy, their replies were quick and detailed. They were flexible with making changes to our reservation without any fuss.
Getting There:
From Manila, the best way to get to the resort is by flying to Tacloban, Leyte ("TAC"), and then take a 3-hr ride by a van that could be arranged by the resort (4500 PHP, irrespectively the number of passengers). Using a public bus would probably be much cheaper, but it will take about 5 hrs, and will not be so comfortable (I guess).
Airlines that service Manila to Tacloban, Leyte: Philippines Airlines and Cebu Pacific Air. Be aware of a very low baggage allowance (weight and dimensions) for internal flights. We flew by Philippines Airlines, which has 10 kg per person limit for check-in luggage and 7 kg for a carry-on for an economy class. I had to upgrade my tickets to get 20 kg allowance, and pre-pay some extra for another piece of luggage, which is significantly cheaper than paying at the airport.
On their website, they posted information about very strict enforcements of luggage maximum weight, and they weighted our carry-ons in Manila (not in Tacloban). One tip to deal with this is to remove heavy items from your carry-ons before putting carry-ons on a weigh scale.
Manila airport is not very efficient, with great distance between terminals. Transfer between terminals (going through busy city's streets) could take very long – in our case, it took us in total 2 hours from landing at Terminal 1 to getting to Terminal 3. As such, a layover of 4 hrs between flights would be required.
Next time, I will book a flight Toronto-Manila-Tacloban with Philippines Airlines, to avoid restrictions with luggage limitations.
If you need to stay in Manila overnight, there are a number of good hotels near Terminal 3. We stayed at Belmont Hotel Manila, which was quite inexpensive and very conveniently located just across the street. It could be accessed via a bridge directly from Terminal 3, so you would not need any transportation.
Accommodation:
We stayed at Ron's House, which is a two-story house with two large ocean-view balconies. The bedroom and bathroom are on the second floor, with one noisy air conditioner in the bedroom (earplugs for a good night sleep are recommended). The water heater in the bathroom was very small, but it managed to keep water not cold, and sometimes - even warm. Bed was firm and comfortable.
A big room on the first floor has a full kitchen with a fridge, a dining table and a sofa, a fan but no AC, so it could be very hot. A steep staircase without any railing will not meet any North America safety standard, and, in my opinion, it is quite dangerous.
I used this first-floor room as my cameral room. It has several North American plugs, and it was sufficient for my needs.
Because of its size, the kitchen (which we did not use this time), balconies and view,
Ron's House has some advantages, but it would definitely benefit from some maintenance work and maybe upgrades.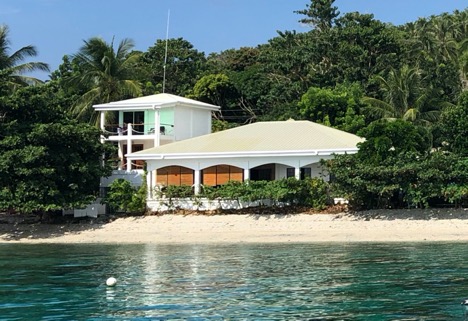 They do provide some laundry services for small fee.
WiFi was available in rooms and the restaurant, but it was not very fast and reliable.
Restaurant:
This resort is not all-inclusive, and you have to pay for what you order. We actually like this arrangement much better. They have a basic menu, and specials that they change every day. We were very satisfied with the quality of food. Alcohol is not expensive here as well. On average, for food and drinks we spent about 2,200 PHP for two of us per day.
Mai, Annalyn (reservation) and Reia (photo above)
You could pre-order your meals in advance, if you prefer to be serviced quickly, but we actually enjoyed sitting on a veranda, sipping some drinks or juices, chatting and waiting for our orders to come.
The only our complaint is that they are not 'setup' for people with some dietary restrictions or preferences, like me, who prefers a vegan diet. So, I had to deviate from my preferred diet almost every day.
I should mention that for my birthday they prepared an outstanding feast. As only us and our friends were at the resort at that time, we 'chartered' the boat for diving and dining at Limasawa Island. The Chef, Monty, came with us and prepared a fantastic lunch with a barbequed fish in banana leaves, many vegan dishes(!), a lot of fruits and a birthday cake. Thank you, Monty!
All restaurant staff was very nice, attentive, and very pleasant to deal with.
Diving Operation:
At the time of our visit they had one dive banka boat.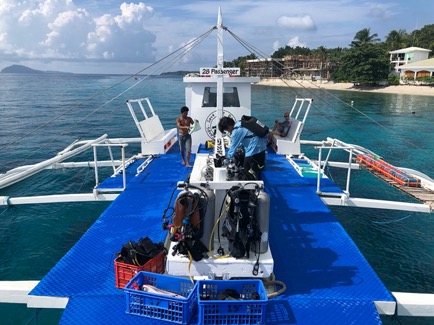 It was well equipped with everything what was needed, including:
• A big cabin where you could hide from sun and rain, or where you could have a big lunch
• a full-size toilet with a big mirror (!)
• a table for cameras
• two tanks with fresh water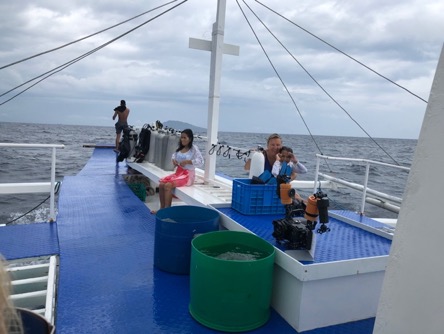 Nitrox is available.
If you need a 15-L scuba tank, reserve it in advance, as they have only two of them.
All dive masters (I mainly dove with David and some with Ian) and boat boys were extremely helpful and nice. Most of them have a fairly good English, so there were no communication problems. They took care of all equipment and handled my big camera with great care. They cleaned all BCDs after each day of diving very thoroughly. Running fresh water was available for cleaning my housing. In addition, they gave me a scuba tank with air and an air gun, which I kept on the balcony, where I dried-up my housing.
PADI Training:
My wife completed two PADI courses at the resort: Open Water and Advanced Open Water Diver. It was one-on-one training. PADI dive instructor, Pedro Batestil, is a very good instructor with good English. I should note that there is no a swimming pool at the resort, so all training has been done in open water.
Diving:
Diving at Sogod Bay was simple and relaxing. There are a lot of beautiful healthy corals with millions of small fish. It was like diving in an aquarium. There were many different anemonefishes, frogfishes, sea snakes, nudibranchs, etc. There were not many big fish although, but at some dive sites (i.e. Max Climax), there were fairly large sweet lips (up to 3-ft long).
We saw many sea turtles at various sites, and few of them were not shy at all, so I managed to get some good footage. One time, on a way to Panaon Island, we saw a big pod of dolphins, which was the highlight of our trip.
Visibility was mostly good, but not great, but sometimes - only fair.
During most of our stay, my wife and I were the only divers at the resort, which had some advantages and disadvantages, as to go to Panaon Island and Limasawa Island's sites they require minimum four divers. So, I had to pay twice for four people to go over there, but it worth it.
I dove at most of dive sites with exception of dive site on the northern part of Panaon Island, which were not accessible at this time due to the prevailing winds (see map below). In addition, I did two night dives, at P Burgos Jetty/Pier and House Reef, which were quite interesting, especially P. Burgos Jetty. Both of them required a shore entry. My favorite sites were shallower parts of Napantao Walls and Max Climax.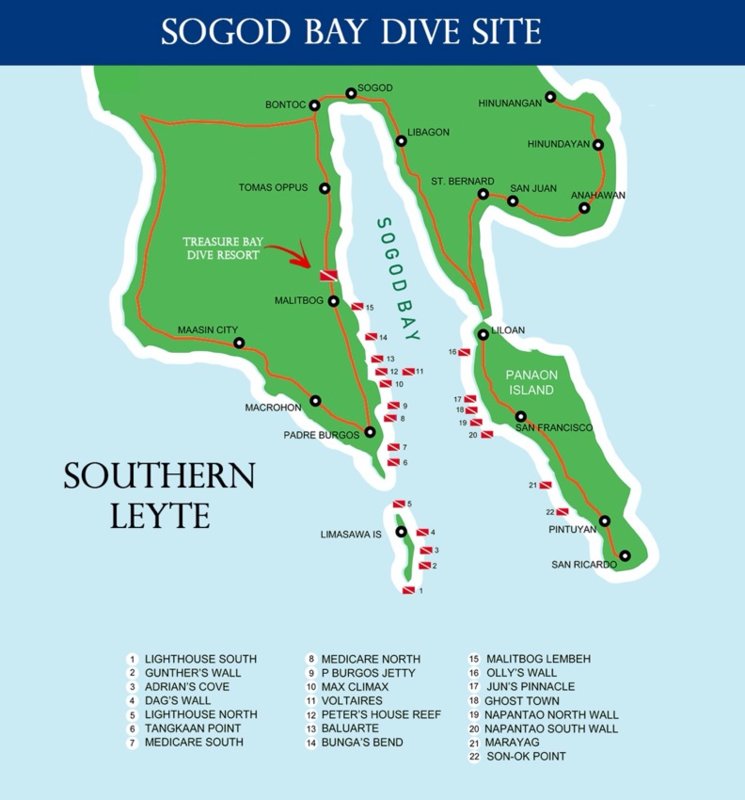 Environmental Conditions:
Reefs at Sogod Bay are very healthy, with plentiful of colorful hard and soft corals, with nice formations and topography. There is very little rubbish at Sogod Bay (almost not at all), and dive masters pick up whatever they could. Overall I would say that Sogod Bay was very clean. Also, resort staff are involved in coral restoration and crown of thorns starfish extermination program.
Conclusion:
Sogod Bay Scuba Resort is a great place to visit, and we will definitely come back again. You could watch my video about this trip at the following link: