Messages

5
Reaction score

0
Location
# of dives
This has been my trusted camera for 5 years and has been well used and cared for. It has been on at least 10 dive trips and 200 dives. I've used it for both underwater and some topside photography. It is time for me to upgrade, so I'm selling the lot for $1,800. I have all the original boxes and shipping cost will depend on whether you want to ship them in the original boxes which will take up more space. I am located in Los Angeles and am open to meet up outdoors to save you some money on shipping.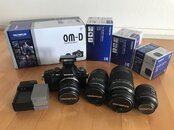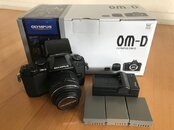 Included:
- Olympus OMD EM5 M1 with14-42mm kit lens and 3 batteries
- M.Zuiko 9-18mm wide angle lens
- M.Zuiko 40-150mm telephoto lens
- M.Zuiko 75-300 telephoto lens
- Olympus PT-EP08 housing
- Olympus PPO-EP01 flat port
- Zen underwater WA-10-EP dome port (blemishes)
- Olympus PMLA-EP01 adapter for macro lens
- Bluewater Photo +7 macro lens
- Olympus zoom ring
- Tray and handle
The only blemish is on the Zen dome port. It has a couple scratches and a water stain. I don't ever see the scratches on pictures, but the water stain shows up in some shots, especially when I shoot into the sun.
Here are pictures of all the items.