Messages

15
Reaction score

16
Location
# of dives

2500 - 4999
Philippines is open at last! Since the "Grand Opening" on Feb 15 it has been a pain to enter Ph. Now I understand they have eased requirements for US travelers. Thx goodness!
I recently visited BADLADZ Resort in Puerto Galera. PG has great diving and the resort is lovely, on Small Tabinay Beach, the bay away from the construction mess at Sabang.
I did an easy shore dive in the bay right in front of the resort and I was blown away with all the critters I found. The 1st blue-black nudi slug was a delight, then another nearby, another, 2 mating, then suddenly they were peppered all over.
I spied the eyes of a plain mantis shrimp before the shy thing disappeared down his hole.
Next a small coconut octopus was peeking out of a den fashioned of rocks and a piece of coconut shell (of course).
Soon after a flamboyant cuttlefish was disguised as algae. When I disturbed the water in his zone it turned on the beautiful black, gold, purple colors with silver stripes undulating on its back and lifted tentacles as if to defy me. Beautiful show!
Further on several lionfish, feathered & dwarf. An anemone with a family of anemonefish nested, tiny glass shrimp dancing around and a pretty porcelain crab hiding under the edge.
Moving on, more blue-black nudi-slugs like someone had taken a bucket of them & cast it over the area.
Then a mimic octopus laying exposed on top of the sand. Such a treat!
At the last I found a tiny spiny seahorse in just 8ft depth.7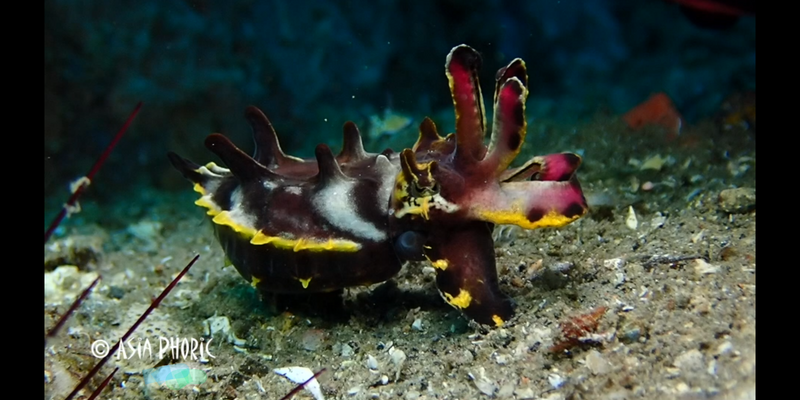 57minutes wandering around, max 23ft depth at Small Tabinay Beach in front of BADLADZ Resort.
The Magic was all on, I hit the Trifecta. Later I was told it's even better on a night dive. Can't wait!
17June2022