---
---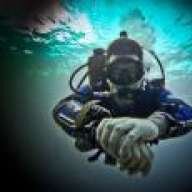 Last Activity:

Jul 14, 2021
Joined:

Mar 19, 2009
Messages:

1,168
Likes Received:

485
Media:
Gender:

Male

Birthday:

January 18

Location:

Occupation:

New Media - Online Communities
Texas Torpedo
Pollo Grande Tejano!, Male, from College Station, Texas
ScubaBoard Supporter
Texas Torpedo was last seen:

Jul 14, 2021
Loading...

Loading...

About

Gender:

Male

Birthday:

January 18

Location:

Occupation:

New Media - Online Communities

Gender:

Male

Certification Agencies:

PADI, SSI, NACD, NSS-CDS, TDI

Dive History:

MEXICO:
Cozumel - All the tourists sites and a few other really good ones Ops don't usually go.
Cenote Diving - Dos Ojos, The Pit, Tajma-Ha, Grand Cenote, Car Wash, Chuk Mul, Dream Gate, Ponderosa, and Aerolito on Cozumel
Diving with Whale Sharks off of Isla Mujeres

FLORIDA:
Pompano Beach shore diving.
Panama City Beach Jetty Diving
Key Largo - Duane, Spiegle Grove, Bibb, Molases & French Reefs.
Key West - Vandenberg and some reef not really worth seeing.
Dry Tortugas via the Spree
Oriskany Tech charter aboard the Spree

Florida Springs -
Vortex, Ginnie, Devils, Hudson Gratto, Eagles Nest, Jackson Blue, Twin, Hole In The Wall, Jug, Little River, Peacock, Morrisson.


TEXAS:
Blue Lagoon, Mammoth Lake, Clear Springs Scuba Park, Comal River, Lake Somerville, Lake Bryan (lol).
Lake Travis: Windy Points Public & Private, Oasis Wall, Shaker Plant, Old Scuba Park, Starns Island, Volente House Boat

SB EVENTS:
SB Invades Key Largo 09', SB Vortoberfest 09', SB Invades Cozumel 11'

Certification History:

-PADI OW - April 09' - Phil Riggs - Texan Scuba - Huntsville, TX
-SSI AOW thru "Master Diver" - July 09' - Mike Ange, Bill Stone & Pete "NetDoc" Murray - SeaDuction "Master Diver University" Key Largo, FL
-Cavern / Intro - Nov 09' - Mike Ange - High Springs, FL
-SSI XTR Dec 09' - March 10' Tech, Tech Wreck - Mike Ange - Hudson, FL. & Key West, FL.
-NACD Cavern / Intro - June 2011 - Rob Neto - Chipola Divers - Marianna, FL.
-TDI Solo - Rob Neto
-NACD Full Cave - Oct 2011 - German Yanez - Cozumel, MX.
-NACD Sidemount / ADv. Cave Sidemount - Jan 2012 - Rob Neto - Marianna, FL.
-NACD Cave DPV - Jan 2012 - Rob Neto - Little River & Devil's in High Springs, FL.

Certification Level:

Junior OW

# of Logged Dives:

500 - 999

Dive Classification:

Technical Diver

Years Certified:

Six - Ten Years

Dive Equipment:

BUOYANCY COMPENSATORS:
-Halcyon Infinity Singles System - Steel Back Plate
-Halcyon 55# Explorer Doubles System - Aluminum Back Plate
-Dive Rite Nomad XT Side-mount & BM Rig

REGS:
-Poseidon Xstreem Deep Regs x2
-Dive Rite Deco Regs x2
-HOG Regulators x8 (Stage, Deco, Backup)
-Scuba Pro MK25 & s600
-Oceanic FDX-10 & Delta 4 Reg (Loaner for friends)

COMPUTERS / DATA:
-Shearwater Perdix AI
-Liquivison X1's x2
-Liquivision XEO (sold)
-Uwatec Galileo SOL (sold)
-Uwatec Bottom Timers

DIVE LIGHTS:
-Lamar English 35watt HID "Light Saber"
-Light Monkey 12w Side-mount light
-Intova Backup lights x 6
-Green Underwater Laser

EXPOSURE PROTECTION:
-Waterproof Wetsuits (shortie 3mm, long 3mm & 5mm), gloves, hoods, etc.
-Seac Warmdry 4mm neoprene drysuit
-White's Fusion Bullet Drysuit w/Light Monkey P-valve, rings, undergarments, etc. (Sold)

Other "tools"
- Dive Xtra's Cuda 650 DPV "scooter"
- Atomic Ultraclear masks
- Mares Quattro Fins
- Variety of spearguns & hawaiian lionfish killers

Rebreather Experience:

Interact

Signature

Lionfish Kills to date:

240

(last updated: 12/15/11)


Loading...