---
---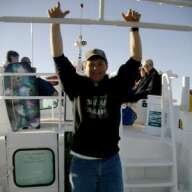 Last Activity:

Mar 12, 2014
Joined:

Nov 30, 2010
Messages:

28
Likes Received:

4
Location:

Occupation:

Whatever will turn a quick buck. And the occasiona
scuba_redneck
Public Safety Diver, from Starkville, ms
scuba_redneck was last seen:

Mar 12, 2014
Loading...

Loading...

About

Location:

Occupation:

Whatever will turn a quick buck. And the occasiona

Gender:

Male

Certification Agencies:

PADI

Dive History:

Completed PADI OW certs in Panama City Beach. Dove the Gulf of Mexico on 2 boat dives and did 2 freshwater spring dives at Morrison springs.
Completed AOW, on deep dive I went to 102 ffw, did not experience noticeable narcosis.
Gained experience in cold(er) water than have previously experienced. Water temp at 102 ffw at Dive Alabama was 55deg F. I learned the value of a good hood, gloves, and boots on this dive.

Spearfishing in bay springs lake in northeast Mississippi was uneventful, however fun regardless.

Several blackwater dives with Monroe county Search and Rescue.

Certification History:

PADI OW, 16 OCT 2010
PADI AOW, 28 AUG 2011

Certification Level:

PADI Advanced Open Water +deep +ppb

# of Logged Dives:

50 - 99

Dive Classification:

Just An "Average" Diver

Years Certified:

Three Years

Dive Equipment:

Mares X-Vision Mask, Clear with Blue frame
Aeris 5mm Manta Booties
Aeris Tawali Snorkel
Random, unidentifiable, full foot fins
Mares Prestige 1st and 2nd stage regs
Mares MV octo
Mares Mission 2 console with PUCK computer
Mares Pegasus BCD with MRS weight system
Mares Volo Power Fins
Pinnacle Cruiser 7mm Wetsuit fullsuit
Blue Reef 6.5mm hood
Blue Reef 5mm gloves
Blue Reef 5mm hard sole boots.
Safety sausage
100' finger spool
UK D4 dive light
JBL 6'8" Travel Pole-spear with 3 pronged paralyser and single flopper tips
XS Scuba AL80
XS Scuba AL19 pony bottle
Hollis aluminum backplate
Hollis solo harness
Hollis S25 wing

Rebreather Experience:

Hey y'all! I am a broke college guy majoring in Forestry at Mississippi State University who loves the outdoors and wishes to preserve it for future generations. A good friend of mine talked me into trying SCUBA my junior year of college where I discovered that compressed air is very addicting. Since then, I have completed my OW, and AOW certifications and am happily on the path to becoming the best diver that I can. I have several amazing mentors and buddies who push me to become better than ever before. I own all my own gear and recently have taken the backplate, wing, and harness plunge. I now see what all the fuss is about. Cold deep water diving is nowhere as bad as I originally thought it would be and actually consider it quite rewarding. Any questions or comments please feel free to PM me or post on my wall. I have recently joined the Monroe County Search and Rescue team as a diver and land based rescue technician on ropes, rural search, and missing persons.

Interact

Signature

eat. sleep. dive. repeat often.

anicbutton: <--- that button, not available underwater. plan accordingly or pay dearly.