---
---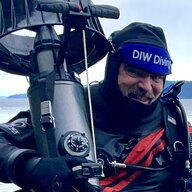 Joined:

Nov 2, 2018
Messages:

647
Likes Received:

770
Loading...

Loading...

About

Deeply committed to DIW diving. More generally, I am a marine fryologist.

Have qualified for (but not paid for) "Master Scuba Diver," which is the civilian equivalent of the Navy's "Master Diver." The former training taught me how to blow air rings, and to not leave my mask on my chest while napping on the surface of a thermal lake during a snowy winter. The latter training apparently teaches people to yell inspiring chants and to blow things up. One hopes that the Navy's standards are a little less pencil whippy than those of the RSTC-aligned agencies.

Pioneer of naked diving, since exposure suits have failure points but birthday suits don't. (However, in cold water an application to the skin of a mix of diaper rash ointment and crude oil can help retain warmth while avoiding the problems that come with use of manufactured mechanical devices like dry suits.)

For gear, I just grab a handful of Spare Airs and drop them as I use them up. That makes it easier to find my way back. And no mask or fins, because those are crutches.

On my slacker days, I use TUSA, Mares, Faber, Zeagle, Atomic, Suunto, Luxfer, Dive Rite, and Dive Xtras gear. And since I don't actually dive butt nekkid, Deep Six and USIA.

Currently planning a world record setting group dive event, underwater leapfrog! However, I need to figure out how to minimize the potential head trauma. Perhaps we'll combine hydrox, biochemical decompression, and union suit style wetsuits with drop seats to make possible methane boosted leaps. I'm still working on the igniters.

Also, I'm creating a specialty course: DIN Plug Diver. It'll be the only specialty out there likely to be as good as the Zombie Apocalypse Diver specialty.

Dove the Red Sea, Southern California, Quintana Roo, and the neighborhood pond, but Cape Arago/Simpson Reef will always be my favorite place.

Interact

Signature

Training until you get it right is not enough. Train until you can't get it wrong.