---
---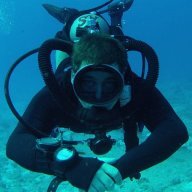 Joined:

May 14, 2004
Messages:

1,313
Likes Received:

799
Media:
Gender:

Male

Birthday:

August 17

Home Page:

Location:

Occupation:

System Administrator / IT lackey
Loading...

Loading...

About

Gender:

Male

Birthday:

August 17

Home Page:

Location:

Occupation:

System Administrator / IT lackey

Gender:

Male

eBay User Name:

macado-

Blog / MySpace URL:

http://blog.macado.org

Certification Agencies:

An alphabet soup of letters and occasional common sense.

Dive History:

I do most of my local diving in New England. I crew/captain on a dive boat. I also teach OW classes occasionally.

I try to make 3-5 trips a year to Cozumel. In 2009/2013 I got greedy and visited Cozumel 6 times in one year; I think that's my record.

All over New England (mostly Boston/Cape Ann, Rhode Island, Vermont), Cozumel, Cancun/Isla Mujeres, Playa Del Carmen/Tulum, Belize, Fort Lauderdale/Pompano Beach, Florida Keys, Florida Caves, St Lucia, Bahamas, North Carolina, St Lawrence River Seaway (Brockville Ontario & Alexandria Bay, NY), Newfoundland, Great Lakes (Lake Huron, Lake Superior, Lake Erie, Lake Michigan), Scapa Flow (Scotland), Thailand, Malaysia, Vietnam, and New Zealand.

I am not DIR/GUE nor do I claim to be. I am mostly brand agnostic when it comes to certifications. I'll dive with anyone at least once, maybe even twice until they can prove they're not trying to kill me. Wing, BCD, horse collar or plastic garbage bag, whatever floats your fancy.

Certification History:

Common Sense (some people seem to lack this prerequisite)
PADI Open Water
NAUI Advanced
PADI Nitrox
PADI Rescue
PSI-PCI Visual Cylinder Inspector
TDI Nitrox Blender / SDI-TDI Visual Inspector
TDI Cavern Diver/TDI Intro to Cave
FMAS/CMAS Cave 2
TDI Advanced Nitrox/TDI Decompression Procedures
PADI Divemaster
PADI Open Water Scuba Instructor (OWSI)
Emergency First Response Instructor (EFR)
IANTD CCR rEvo Diver (MOD1)
TDI CCR rEvo Normoxic Trimix (MOD2)
IANTD Rebreather Cave / NSS-CDS Rebreather Cave
IANTD Full Trimix CCR (MOD3)
TDI SF2 Air Diluent eCCR
TDI Advanced Trimix
GUE Fundamentals (Part 1)

Certification Level:

CCR Full Cave/Full Trimix (MOD3)

# of Logged Dives:

1,000 - 2,499

Dive Classification:

Just An "Average" Diver

Years Certified:

Ten Or More Years

Dive Equipment:

Lots of gear but thankfully not as much as some people. Compiled from various bits and pieces, some old, some new.

Rebreathers: rEvo II Mini mCCR / SF2 eCCR

Doubles Regulator Sets: Apeks ATX50 Second Stages with Apeks DS4 First Stages. Multiple sets.

Deco/Stage Regulators: Multiple sets of Apeks ATX50 Regs with Apeks DSTs and DS4s. Multiple sets of HOG D1 Second Stages and D1 First Stages

Vintage Regs: Aqualung DW Mistral Double House Regulator (Circa 1965-1975). Aqualung DA Aquamaster (West Warner address) with Phoenix HPR second stage. Voit Trieste R-22 Double Hose Regulator. Completely rebuilt, custom made diaphragm to improve cracking effort.

ScubaPro Mk5 3rd Gen, Voit MR-12 Regs. Other regs in various levels of deterioration and abuse.

Too much other stuff to list.

Rebreather Type:

SF2

Rebreather Experience:

Diving Rebreathers Since:

2015

Work in an IT department as a System Administrator for a university.

Interact

Signature

More dives than my post count and I'd like to keep it that way...

Loading...