---
---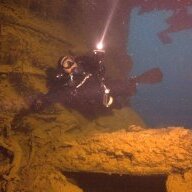 Gender:

Male

Birthday:

Dec 9, 1962

(Age: 56)

Occupation:

Aerospace, Military Industrial Worker Drone
Loading...

Loading...

About

Gender:

Male

Birthday:

Dec 9, 1962 (Age: 56)

Occupation:

Aerospace, Military Industrial Worker Drone

Gender:

Male

Certification Agencies:

PADI, NAUI, TDI, NACD, IANTD, GUE

Dive History:

Sipadan -luckily & unknowingly escaped before the infamous Abu Sayyaf Raid, Easter Sunday April 23, 2000. Dived in Indonesia -Lembeh, Halmaherah & Raja Ampat; PNG -Bismark Sea; Thailand -Similans, Hin Daeng/Hin Muang; Fiji -Bligh Straits; Philippines -Balicasag Island, Tubbataha Reefs; Grand Cayman & Little Cayman BWI; Galapagos Islands; Cocos Island Costa Rica. South China Sea -WWII Battleships HMS Prince of Wales & Repulse, Super Tanker Seven Skies; Sri Lanka -WWII Aircraft Carrier HMS Hermes; Sunda Strait -WWII Cruisers USS Houston & HMAS Perth; Truk -HIJMS Oite Destroyer, Aikoku Maru, San Francisco Maru, et al; Palau -Amatsu Maru, IJN Iro Tanker, Chuyo Maru; Subic Bay -USS New York, Sakura Maru, F4 Phantom Jet; Coron Bay PI -HIJMS Akitsushima, IJN Irako; Vanuatu -SS President Coolidge Transport; Bikini Atoll -WWII Aircraft Carrier USS Saratoga, Battleships USS Arkansas & HIJMS Nagato, Destroyers USS Lamson & Anderson.

Certification History:

PADI Drager Dolphin Rebreather 1999 (Fred Colburn, Pacific Wilderness); GUE-Fundamentals 2001, 2007 (John Walker, Beach Cities Scuba, Michael Kane, Hollywood Divers); TDI Adv. Trimix 2005 (Chuck Mather/Keith Keizer, Dive Tek Hawaii); DSAT Trimix Blender 2005 (Dave Ross, Tech Asia); PADI Wreck Diver 2005 (Jo Hjelm, Island Divers Oahu); NAUI Wreck Penetration 1 2005 (Andrew Georgitsis, 5thD-X); NACD Cavern 2006 (German Yañez, Yucatech Expeditions); NAUI DPV 1 '06 (Joe Talavera, 5thD-X); IANTD Technical Wreck Diver '06 (Sam Collett, Tech Asia); SDI Solo Diver '15 (Rob McGann, TLDC).

Certification Level:

PADI Rescue (1997)

# of Logged Dives:

1,000 - 2,499

Dive Classification:

Technical Diver

Years Certified:

Ten Or More Years

Dive Equipment:

Halcyon SS Cinch Backplate & AL BP; Explorer Wing 55 & 40; Catalina double AL80's, AL100's; UTD Z-Sidemount System; Apeks TX100's & TX50's, SP Mk25 G250HP's; DUI TLS350 & DC Ultraflex Drysuits; 4.5Ah & 2.6Ah Halcyon EOS LED canister & handheld lights; Jetfins; X-Scooter Sierra; SW Petrel2, LV Zeo & UW 330m; McMurdo Fastfind Plus PLB in Dive Canister; Uniden Mystic VHF/GPS Marine Radio stowed in X-Scooter; Halcyon Diver's Life Raft; UTD Solar Wetsuit Heating Unit w/ 110W Battery Canister.

Enthralled Aquanaut, lost in (Inner)Space. Born, raised, graduated from UCLA & still currently reside in Los Angeles County, the Birthplace of Recreational Scuba: where you can snowboard/ski in Winter Mountain Wilderness; then turn back around to swim, surf & night dive in Kelp Forests at Mainland Beaches; and finally come home to Suburbia with a perfect Mediterranean Climate --all done within either a span of 12 hrs, or a leisurely paced Weekend. . . !

Interact

Signature

"One way of looking at this might be that for 42 years, I've been making small, regular deposits in this bank of experience, education and training. And on January 15 [2009] the balance was sufficient so that I could make a very large withdrawal." Capt. Chesley B. "Sully" Sullenberger III, US Airways Flight 1549 ("Miracle on the Hudson")

"What stays with you latest and deepest? Of curious panics,Of hard-fought engagements or sieges tremendous -what deepest remains?" —Walt Whitman, "The Wound-Dresser"

"Chance favors the prepared mind" --Louis Pasteur

Loading...