---
---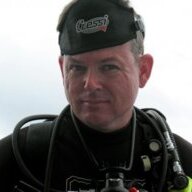 Gender:

Male

Birthday:

August 22

Location:

Occupation:

Scuba Instructor
bill22
Instructor, Scuba, Male, from Guam, USA
Diving in Guam Jul 17, 2019
bill22 was last seen:

Viewing forum list, Sep 22, 2019 at 2:37 AM
Loading...

Loading...

About

Gender:

Male

Birthday:

August 22

Location:

Occupation:

Scuba Instructor

Gender:

Male

Blog / MySpace URL:

https://billstewartsunderwateradventures.com

Certification Agencies:

PADI

Dive History:

I've dived, the Caribbean, Florida, California, Japan, Mexico, and Texas. I began traveling to the Philippines in 2007 and have logged more than 400 dives there now. I've dived Guam and Chuuk in Micronesia and have more trips planned. I became an instructor in 2017. I moved to Guam in 2018 where I'm a scuba instructor and dive guide.

Certification History:

PADI OW-1982
PADI AOW-1986
PADI Rescue Diver-2007
PADI Divemaster-2009
PADI OWSI-2017
EFR Instructor-2017
PADI MSDT-2018

PADI Specialties:
Cavern Diver-1987
Enriched Air Diver-2007
Wreck Diver-2007
Emergency First Response-2014
Emergency First Response-2017

PADI Specialty Instructor for:
Peak Performance Buoyancy-2017
Project Aware-2017
Aware Coral Reef Conservation-2017
Digital Underwater Photography-2018
Project Aware Dive Against Debris-2018
Self-Reliant Diver-2018
DPV-2018
Emergency Oxygen Provider-2018
Equipment Specialist-2018
Boat Diver-2018
Deep Diver-2018
Drift Diver-2018
Enriched Air Diver-2018
Night Diver-2018
Search and Recovery-2018
Shore Diver-2018
Underwater Navigation-2018
Wreck Diver-2018

Certification Level:

PADI MSDT

# of Logged Dives:

1,000 - 2,499

Dive Classification:

Instructor / Assistant Instructor / Dive Master / Dive Con

Years Certified:

Ten Or More Years

Dive Equipment:

TUSA M-31 Mask;Aqualung Nautilus Pocket Snorkel;Mares Superchannel Fins;OMS Slipstream Fins;TUSA Passage BCD;Dive Rite Travel Wing and AL Backplate; Faber HP80's (2 Nitrox, 1 Air); Dual Dive Rite RG3500 Hurricane Regulators (primary on 7ft hose and backup on necklace); Dive Rite SPG; Dive Alert Plus (wouldn't dive without it); Nitek Duo/Hollis DG03 Dive Computers; Suunto SK7 Compass; Exposure protection: 4th Element Farmer John w/ a Sharkskin top in tropical waters. A Mares Trilastic 5-4-3 Jumpsuit w/ Mares 5mm Hood (when it's a bit cooler);Whites Fusion Bullet Drysuit (below about 65F I'm in a drysuit... absolutely HATE being cold);UK Remora Titanium BC Knife;Titanium Blue Tang Knife;Dive Rite Side-Handle Safety Reel;Apeks Finger Reel; DAN SMB; Nikon D500/Ikelite Housing/DS160 strobes. My backup is a Canon G16/Fantasea Housing/Inon S2000 Lighting set.

Born and raised in Texas. Got interested in diving watching Sea Hunt re-runs after school while I was in elementary school. By junior high I'd discovered "Silent World" by Jacques Cousteau and started reading everything I could on diving. After high school I joined the US Navy spending almost 10 years working as a photographer and photo-journalist. I earned my scuba certification while stationed in Florida. I left the Navy, went to college, then worked at Cape Canaveral for Photographic Services. Photo Lab manager after that. Returned to the Navy in late 2001 and retired in 2012. I worked mostly overseas between 2004 and 2014. I retired in 2014 and spent a few years as a "professional dive bum"

I spent almost 2 years in the Philippines during that period and have made over 400 dives in that country. I moved to Guam in 2018 where I have a part-time business as a scuba instructor and dive guide. When I'm not diving or teaching, I'm attending school full time at the University of Guam where I'm working on a B.S. in Biology.

Interact

Content:

Facebook:

billstewartsunderwateradventures

Twitter:

scubabill22

Signature

Bill

Just killing time during my surface interval

"I spent a lot of money on whisky, women and dive gear. The rest I just squandered."-El Orans

Nikon D500/Nikkor/60mm and 105mm/Tokina 10-17mm/Ikelite Housing/Ikelite DS125 & DS160

Bill Stewart's Underwater Adventures

Loading...